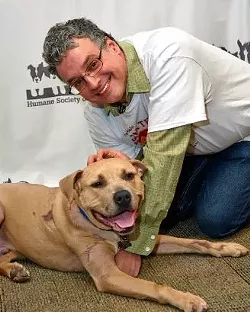 Trooper and Greg, his new owner.
In a year filled with horrific cases of animal cruelty, the story of Trooper -- a puppy accidentally dragged behind a pickup truck on Interstate 55 last November -- touched animal lovers and activists not just in St. Louis, but across the globe.
Now, after a year of multiple surgeries, pain and recovery, Trooper the Dog has a new home. Jeane Jae, a spokeswoman for the Humane Society of Missouri, confirmed to Daily RFT that Trooper was adopted yesterday afternoon.
"We've certainly had interest from all over the world," Jae told Daily RFT in March. "Cards from Shanghai and Australia and everywhere in between -- east, west, north and south."
HSMO covered Trooper's medical expenses in the past year, which Jae says cost tens of thousands of dollars. She says the organization has also committed to paying for Trooper's veterinary care for the rest of his life.
- See also: Trooper The Dog, Dragged on Highway, in Recovery After Seventh Surgery (PHOTOS) - See also: Puppy Dragging Trial: Trooper Gets Global Love As Suspect's Case Heads to Judge (PHOTOS)
Facebook/Team Trooper
Trooper during his recovery
In late November 2012, Benetta Johnson, 42, tried to return a five-and-a-half month old Trooper -- then called "Vick" -- to her ex-husband. But she couldn't track him down, so she tied the puppy to the trailer hitch of her ex's truck.
But her ex, Victor Washington, didn't see the pup when he drove off the next morning. Another driver noticed the dog being dragged had flagged Washington down and called the cops.
A tearful Johnson pleaded guilty to misdemeanor animal abuse in April. She was sentenced to two years of probation and 150 hours of community service. She is also banned from owning or caring for pets for the next two years.
Though Trooper wasn't the only animal victimized by horrific owner negligence this year, his story seemed to touch a special nerve with the public. A Facebook page, Team Trooper, has 17,000-plus likes and HSMO even rolled out a selection of Trooper merchandise.
"He's just a great dog," Trooper's new owner, Greg, told The Post-Dispatch. "My heart melted as soon as I saw him. We just bonded right off the bat."
Facebook/Team Trooper
Trooper is straight-up adorable. Dashing, too.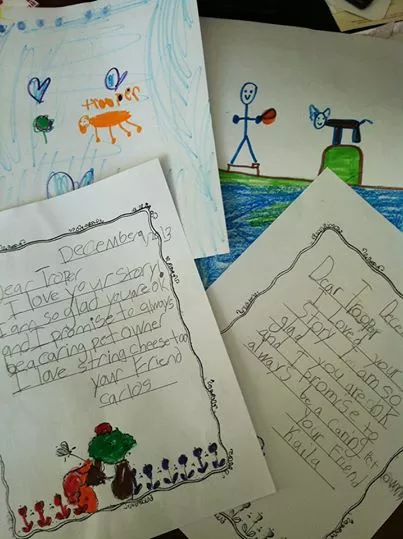 Continue for more photos of Trooper and his incredible recovery.