Images Courtesy of Really Big Coloring Books, Inc.
It's a very merry Cruz-mas for Really Big Coloring Books, Inc.
The Clayton-based coloring book publisher put out a coloring book based on the life of Texas tea party darling Senator Ted Cruz, and it's flying off the shelves faster than you can say "Obamacare."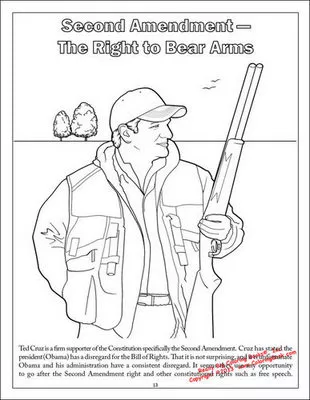 The first printing of 10,000 books sold out in less than a day. Same with the second. As of Monday, publishers started the sixth printing of the $4.99 coloring book.
Founder Wayne Bell says the book created nine part-time jobs for his St. Louis publishing house.
"As one reporter told me today, 'Well, the Ted Cruz book seems to be selling a hell of a lot better than Obamacare,'" Bell says.
See also: Controversial Coloring Book for Kids Now Includes Terrorist Trading Cards
The cover of "Cruz to the Future" shows the senator pointing to a growing "tea plant" -- a reference to his Tea Party backing -- growing from grass roots, a nod to his popularity among conservative activists. Stenciled onto the trunk is the U.S. constitution and the ten commandments, all culminating in leaves celebrating freedom, gun rights, free enterprise and, at the top of the tree, the White House.
Publishers in Clayton say they wrote the comic-slash-coloring book based on public information and without input from Cruz or his staff "in order to provide a fair objective review on this positive role model and real life superhero," according to the book.
See the page dedicated to Cruz's 21-hour speech against Obamacare after the jump.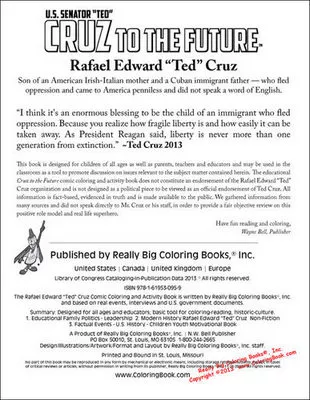 Inside the book's front cover
On one page celebrating the second amendment, children can color in a wistful-looking Cruz carrying a shotgun. Another page calls President Barack Obama's healthcare overhaul "worse than any war."
"Many, including Obama's own supporters, feel the president has betrayed millions of Americans," the book says on a page dedicated to Cruz's 21-hour filibuster speech against Obamcare. "Truth-be-known, a lot of the career establishment politicians are far too out of shape, old or overweight to even perform such a magnificent feat, God bless them all."
The coloring book spent five days as the No. 1 most popular coloring book on Amazon, and as of this weekend, it is also the online seller's most wished for coloring book.
"We hope all who enjoy the book color it in bright, bold colors, and not pale pastels, just as Ronald Reagan would have wanted," Cruz's spokeswoman Catherine Frazier told the Associated Press, referencing Cruz's criticisms that the GOP mainstream "paints in pastels" instead of taking bold actions.
Follow Lindsay Toler on Twitter at @StLouisLindsay. E-mail the author at Lindsay.Toler@RiverfrontTimes.com.