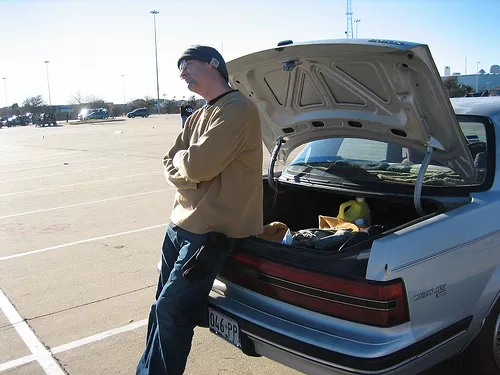 nffcnnr on Flickr
Road trip!
The Missouri Tigers are capping off an impressive, exciting season at the Cotton Bowl in Dallas next month. If you're planning to drive to Big D to watch Mizzou take on Oklahoma State, be warned: the quickest route is alternately tricky and borning.
It takes about ten hours to drive from St. Louis down I-44, exit for Highway 69 in Big Cabin, Oklahoma, and ride that road all the way south to the Metroplex. Sure, you can take a route through Tulsa or even Memphis, but this is the fastest drive on major roads.
We break down everything you need to know -- then everything you may want to stop for -- in eight easy steps:
1. Eat like a trucker.
Dottie's on Facebook
These two guys just ate a 1.5-pound burger and a pound of fries. You can, too.
Cuba, Missouri -- or "The 208" as truckers call it on their CB radios because of its exit number -- is home to one of the best truck-stop diners in Missouri, Dottie's Family Restaurant. The homestyle diner and buffet is the brainchild of Tim Blessing, a St. Louis chef whose stints at fancier restaurants like Herbie's, Monarch and Cardwell's on the Plaza make his decision to commute 80-plus miles for comfort food all the more special. Dottie's is always full of rough and tumble truckers knocking back coffee and chicken fried steak before hitting the road again, making it our favorite place to grab breakfast before the trip across Missouri.
If you're not the one behind the wheel and you're ready to get the party started early, you're in luck: Dottie's just started serving beer and wine last month.
2. See Stonehenge in Rolla. We're not talking about Spinal Tap.
The engineering geeks (we mean that in the best way) at Missouri University of Science and Technology built a scaled-down model of Stonehenge, the mysterious ancient megalith in the plains of England, in the 80s, and it's totally worth a quick stop. Students carved 160 tons of granite into a 50-foot ring of 29.5 stones around a horseshoe of trilithons (those weird half-H structures.) S&T students improved upon the Druid design: if you make it to Rolla by noon, you can use the angle of the sun to determine the date. (You can also use your smartphone, but how often do you get to tell time using giant stones?)
3. No Spooning.
No road trip is complete without visiting the world's largest something. Springfield is home to the world's largest fork, stuck in the ground at a Springfield ad agency. Last summer, the 35-foot fork met a six-ton potato from Idaho. That's 1.4 million French fries.
4. Take a picture with Standing Brave. Don't leave Big Cabin without making a pit stop. You'll want a full tank and an empty bladder before heading south or you'll have to pay extra to get on and off the Will Rogers Turnpike. If you're in Big Cabin, your only hope is The Woodshed, a store with clean restrooms and plenty of food options.
You'll know you're in Big Cabin when you see Standing Brave, the 26-foot Cherokee Indian statue erected in 2001.
5. Sorry, Oklahoma's Largest McDonalds is closed. Vinita's McDonald's used to be the world's largest, although Orlando claims that title now. The McDonalds used to be the best place to stop on the turnpike, but the 56-year-old restaurant is getting a much needed facelift. It'll reopen soon with Kum and Go pumps for gas.
Pit stop. Three more stops after the jump! 6. For American Idol and Sound of Music Fans Carrie Underwood describes her hometown of Checota, Oklahoma as a one stoplight town most popular for having a Walmart. In her song, "I Ain't in Checota Anymore," laments that her big city lifestyle means she can't fish for crappie in Eufala Lake, eat okra at Okrafest or tip cows anymore. Don't make her mistake. In Checota, tip a cow for Carrie -- because there's nothing else to do.
7. See where Bonnie and Clyde got their start.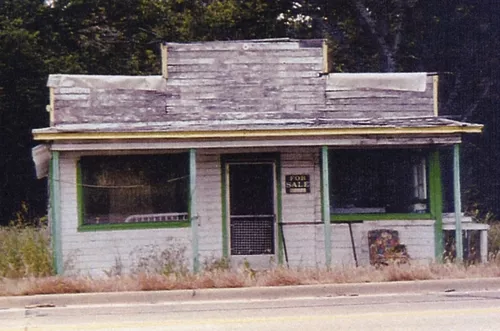 All that's left of the dance hall where the Barrow gang killed their first victim.
There will come a time when you pass a giant jail on your right. That's how you know you're in Stringtown, where Bonnie Parker and Clyde Barrow killed their first lawman, a sheriff's deputy who asked Barrow to put away his whiskey bottle a year before Prohibition ended.
8. Like Ike.
When you think Texas presidents, LBJ and the Bushes come to mind. But did you know Dwight Eisenhower was born an hour north of Dallas? Visit the modest two-story frame house where he was born before he moved to Kansas, where he hailed from when he ran for president.
After Denison, Texas, you'll start to see the true meaning of sprawl. Dallas may be an hour away, but there's no end to the strip malls, restaurants and shops on your way.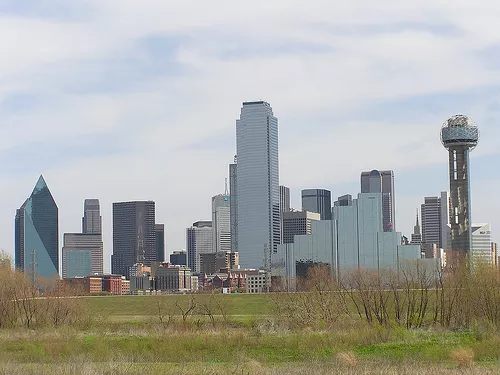 Congratulations. You've arrived.
Follow Lindsay Toler on Twitter at @StLouisLindsay. E-mail the author at Lindsay.Toler@RiverfrontTimes.com.