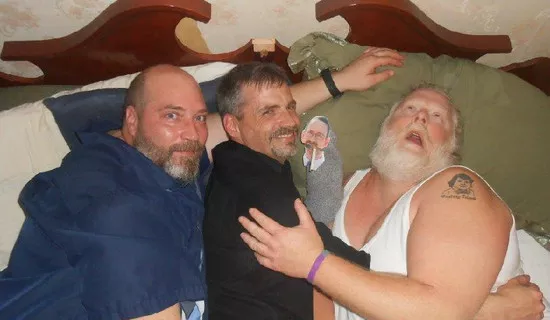 Photos Courtesy of Epic Coffee Time
Epic Coffee Time holds a "funeral" for David Black (R).
David Black needed a good laugh. Newly-diagnosed with Stage IV lung cancer, the Wood River, Illinois, man felt his life was about to be cut short, and he was sick of feeling sick.
He reached out to his buddies, the same ones he'd met for coffee once a week before families, jobs and busy schedules got in the way. Together, they came up with the perfect dark-humor tribute: a fake funeral photo-shoot.
Dressed in his best white tanktop, Black posed in bed with a bouquet of flowers as his buddy's children and a sock puppet poke him to see if he's still alive.
Don't worry, he's not really dead.
"We were laughing our butts off," says Black. "We were trying to give everybody a healthy view of a tragedy."
Friends were not amused. Faced with Black's terrible prognosis, they told Black and his co-conspirators the photos were offensive and outrageous.
The guys couldn't have cared less.
"Hey, we're all going to die," says Dan Pyle, one of the organizers behind the fake funeral. "We may as well have a hell of a time. We'd rather die laughing."
See also: VIDEO: Rolla Police Make Teenage Cancer Patient's Baddass Wish Come True
Black's diagnosis was a major wake-up call for Pyle and his friends, who had grown apart over time.
"We thought, holy shit, we're not going to have time to say we're going to call," Pyle tells the Daily RFT. "We decided to make up for about 15 years worth of broken promises." Black, Pyle, Rich Goldman and Steve Scroggins restarted their weekly coffee dates -- with a twist.
The crew livestreams their bro-outs for all of the Internet, turning their simple get-togethers into a half-scripted, half-improvised comedy sketch show called Epic Coffee Time, which features puppets, cooking segments, song parodies and even a cancer mascot named Prosty the Prostate.
"It's absurd," Black admits. "We kind of go over the top."
Pyle, the creative mind behind the absurdity, says he draws comedic inspiration from the group's collective response to Black's terminal diagnosis, which he describes in seven words: "Come on. Take us on. Fuck it."
"It's not like we're all that talented," says Pyle, who lives in Overland. "We're not musicians. We can't just go out and perform a benefit every week. But we can do what we can do, which is sit around and be goofy with each other. I think we've been good at that for a long, long time."
See also: Bachelor Contestant Sarah Newlon Defends Yadier Molina Cancer Sign During World Series
The guys happily admit they're amateurs -- Black often describes their sketches as being in poor taste -- but they savor their time together, and their joy is infectious.
"We just wanted it low quality, as low quality, shaky camera, poor lighting and bad acting as possible," says Pyle. "We just want to be the normal guy on the street who turned a camera on."
The comedy has a serious side. Epic Coffee Time asks for donations from fans, first for Black's medical bills and now for other friends and neighbors facing cancer and other health problems.
"It was like, OK, now maybe we've started some kind of charity-not-charity thing here," Pyle remembers. "It's an easy way to have a benefit without ever having to plan to be at a benefit. Hell ya, we are goofy, but we're trying to point you back to the donation site."
Besides donations, the show has another unintended upside. If cancer does kill their friend, Pyle and the Epic Coffee Time crew have several YouTube videos recording their last times together.
"Nothing changes your perspective on life like dying," Black says. "We don't have to sit here and mope about it. We can celebrate life and have fun."
Follow Lindsay Toler on Twitter at @StLouisLindsay. E-mail the author at Lindsay.Toler@RiverfrontTimes.com.