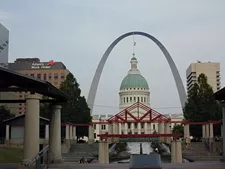 Ten years for two grams of crack.
Twelve years for five grams of coke.
Twenty years for two capsules of heroin.
When it comes to sentencing nonviolent drug felons, St. Louis prosecutors are not afraid to use the "Prior and Persistent Drug Offender" statute, Missouri's three-strike drug law that allows -- and sometimes forces -- judges to hand out decades in prison for very small amounts of drugs.
Our cover story last week featured Jeff Mizanskey, the only inmate in Missouri to be doing a life without parole sentence for three nonviolent marijuana felonies. When people are convicted under the Prior and Persistent Drug Offender statute, their sentences require a minimum of ten years without parole. In very few cases, like Mizanskey's, a life sentence is handed out. But everybody else gets somewhere in between, and the statute is used often in St. Louis.
A review of 100 Prior and Persistent Drug Offender cases that were brought to the appeal level mostly within the past fifteen years found that 47 were in the St. Louis area, including the county and city.
Daily RFT won't name the defendants in those cases out of privacy concerns, but here's a sampling of some of the sentences that were handed out in St. Louis courts. In each case, it was the person's third drug-related felony, and they were trying to sell or deliver the drug:
Twenty years for selling two capsules of heroin to an undercover cop during a sting operation.
Twenty years for selling $40 worth of crack to an informant.
Fifteen years for 11.87 grams of crack.
Fifteen years for 7.3 grams of crack.
Ten years for selling just under 3 grams of crack.
Ten years for 5 ounces of marijuana.
Ten years for 65 grams of marijuana.
And finally, ten years for attempting to buy $30 of heroin, which was a setup done by a female cop who asked the man to buy her some junk because she was "afraid" to do it herself.
See also: VIDEO: Meet Jeff Mizanskey, Missouri's Only Inmate Sentenced to Death in Prison for Pot
Many other cases involve ten to fifteen years imprisonment for amounts of coke that your average 80s rock star could probably snort off a groupie's thigh in a few minutes.
Click on the next page to read about St. Louis' extreme prison sentences...
These types of lengthy sentences handed out under the Prior and Persistent Drug Offender statute are not always about punishment, but because of a prosecutor's desire to have more control over the sentence, according to St. Louis public defender Rick Kroeger.
"They will charge someone as prior or persistent knowing that they can get without probation or parole and they use that to force our hand to agree to something that they want," Kroeger tells Daily RFT.
In order to avoid a blind plea -- in which a defendant will plead guilty and then have a judge sentence them -- a prosecutor will hang the prior and Persistent Drug Offender statute over the defendant's head to scare them into pleading guilty and accepting the prosecutor's desired sentence, which is usually more years, but with the possibility of parole.
"Prosecutors know our hands are tied if our client wants to avoid a [without parole] sentence," Kroeger says. "So basically I think it's their way of trying to avoid open pleas knowing that a judge would more likely than not give a better sentence than the state would agree to."
An example of how that works is a prosecutor offers a defendant twenty years with parole, which means they will be eligible (though no guaranteed) for release after 15 percent of their sentence -- about three years.
See also: 45 Guns Ex-Judge Mike Cook Will Surrender After Pleading Guilty to Heroin Charges
Or the defendant can go to trial and take his or her chances of either being found not guilty and going home or being found guilty and getting a minimum of ten years without parole -- and that's only if the judge decides to give them the most lenient sentence. Many times it's not worth the risk, even if the defendant is innocent, because the judge can always decide to increase the punishment if he or she feels like doing so.
However, Kroeger says, although lengthy punishments do happen, they are still rare.
"I think more often than not, what we have seen here in the city is that judges realize ten years minimum [without parole] is extreme and to go above that would be unnecessary or unfair compared to other sentences for other crimes," he says.
But that hasn't stopped the Prior and Persistent Drug Offender charge from being used. Instead, it has become more common in St. Louis, according to Kroeger, as well as a few "tough on crime" counties in the rest of the state, according to Greg Mermelstein, a division director with the Missouri State Public Defenders' Office.
That is despite rhetoric from politicians that long prison sentences for nonviolent drug offenders are too costly and ineffective.
"[The Prior and Persistent Drug Offender statute] has definitely been on the rise," Mermelstein says.
Follow Ray Downs on Twitter:
E-mail him at Ray.Downs@RiverfrontTimes.com.