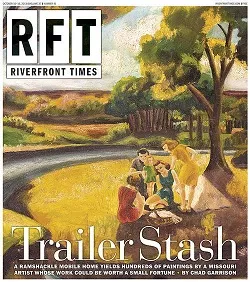 Last spring Jason Geisendorfer, an out-of-work construction worker, paid $600 for a couple derelict trailers in northeastern Missouri. The trailers, he would soon learn, were brimming with artwork from the late Virginia Terpening, a reclusive artist who spent some six decades painting in the small town of Lewistown.
Slideshow: The Unearthed Paintings of Virginia Terpening
Riverfront Times wrote about Geisendorfer's discovery this fall and his quest to get Terpening's work into a gallery or museum. At the time Geisendorfer claimed to have received offers as high as $30,000 for just part of the 700 paintings that Terpening had in her possession when she died in 2007 at age 89. But during an initial auction of the entire collection, no bidder met Geisendorfer's minimum dollar amount. So Geisendorfer again put the artwork up for sale, this time allowing buyers to bid on individual pieces.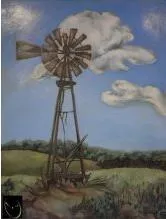 The auction wrapped up last month and took in nearly $56,000 with one oil painting, titled "Old Windmill," going for $3,150. Last week Geisendorfer got a check for $35,000 -- his take after auction fees and commissions. For those keeping score at home, that's a 58-time return on his initial $600 investment.
"I'm happy," Geisendorfer tells Daily RFT. "I went to two big auction houses that told me the art was worth nothing and I should try to give it away. It shows you what they know."
Geisendorfer is also pleased for Terpening, a regionalism-style painter who graduated from Washington University's art school and displayed nationally and internationally in the 1950s and '60s but never earned fame or much recognition. "Her artwork is out there being enjoyed and restored now," he says. "Another five or six years in that trailer, and they'd all be ruined."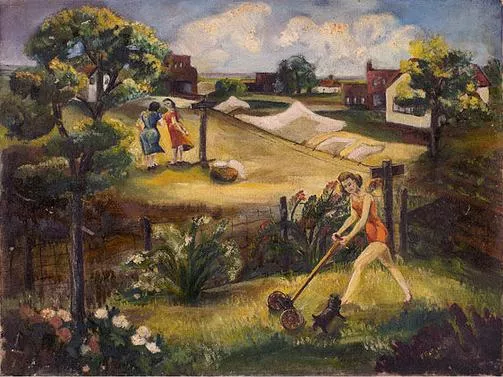 "Woman in a Swimsuit Mowing" sold for $1,500 at auction.
Next month the public will indeed be able to see much of Terpening's work. The Hinge, an apartment gallery in the Central West End, scooped up at auction some 60 pieces of Terpening's paintings and drawings and will hold a showing of the artwork on January 25.
In the days preceding last month's auction the fledgling gallery held a Kickstarter campaign to raise money to purchase Terpening's art. The fundraiser failed to meet its goal of $3,000, so the gallery ended up buying the work on its own dime, spending as little as $50 for some pieces and upwards of $1,500 for others.
"We took a gamble in investing in quite a few pieces," says Eileen G'Sell, one of The Hinge's co-founders. "But in the end we feel we have a solid core of her work that is exhibition worthy."
A map representing the location of every one who bid on the auction.
The auction drew some 89 bidders from across the country. The largest buyer was a Seattle collector who snatched up $16,000-worth of Terpening's artwork.
"It was a hell of a sale," says auctioneer Jason Wallingford. "It grew by $35,000 in last hour-and-a-half of bidding."