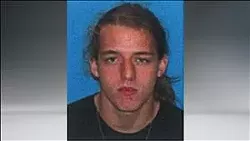 Thomas Lee Stanton, eighteen.
An O'Fallon, Illinois, Township High School teen who will serve two-and-a-half years for building homemade bombs kept notebooks full of Nazi messages, racist rants and even a ten commandments for getting revenge against unsuspecting people.
Thomas Lee Stanton, eighteen, pleaded guilty to federal charges of unlawful possession of a destructive device for owning four cricket bombs -- made from carbon dioxide cartridges, fuses and explosive powder -- two Molotov cocktails and more bomb-making materials at his Lebanon, Illinois, home.
Police arrested Stanton on an anonymous tip days after two brothers detonated homemade bombs at the finish line of the Boston Marathon in April. Stanton's family and lawyers have accused law enforcement of making an example of Stanton to assuage heightened fears of domestic terrorism after the Boston bombings.
See also: Boston Marathon Bombing: St. Louis Family Just Missed Explosion, Says "It Was Sickening"
Stanton filled notebooks -- including one called "Death Attack" -- with notes about killing Jews, blacks, gays and his high school principal, according to the St. Louis Post Dispatch. In the notebooks he describes how to build various bombs, including a cannon that launches baseball bats, and references leaving an explosive in the O'Fallon principal's car.
Google Maps
Police raided Stanton's Lebanon, Illinois, home and found bomb-making supplies.
While investigators never found evidence of a plot against the principal or the school, authorities say they were concerned because Stanton's part-time janitorial job at the school gave him access to campus during off-hours.
Stanton wrote a list of the "ten commandments of revenge guidelines," describing how to hide violent plots, as well as several racist messages and Nazi references, according to the Post-Dispatch.
U.S. District Judge David Herndon sentenced Stanton to 30 months in federal prison and three years of supervised release.
"I simply can't, in good conscience, leave this man on the streets, given his attitudes about things," Herndon said, according to the Post-Dispatch. "I think the defendant needs to get a loud and clear message. He needs to understand that he is lucky he was stopped before any of that came to fruition."
Stanton apologized at his sentencing, saying he wanted to become a better-functioning member of society.
Follow Lindsay Toler on Twitter at @StLouisLindsay. E-mail the author at Lindsay.Toler@RiverfrontTimes.com.