If anyone knows Auburn's weaknesses, it's an Alabama fan.
The University of Missouri Tigers are still new to the SEC, so a University of Alabama fan offered up some advice to best the school's fiercest rival, the Auburn Tigers, in the championship game.
In an open letter to Mizzou that went viral on Monday, a 'Bama fan known only as 5026 says the Crimson Tide will be rooting for Missouri during the game Saturday at the Georgia Dome -- not too far from Alabama.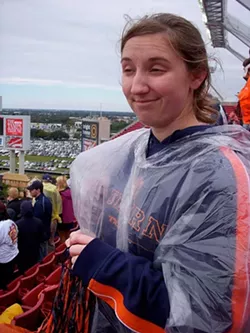 April Weeks on Flickr
The most flattering photo of an Auburn fan. Ever.
"Here in the SEC, we appreciate resilience, and you have SHOWED it all season long," the Alabama fan writes. "Believe me, you beating [Auburn] will not only be appreciated in Tuscaloosa, but pretty much in the whole country."
If anyone can offer insight into Auburn's weaknesses, it's an Alabama fan.
Football is an all-year sport in Tuscaloosa, Alabama, which is hundreds of miles from the closest professional sports franchise, and Auburn makes an easy target only 160 miles up the road. The rivalry spun out of control years ago when a 'Bama fan poisoned Auburn's famous oak trees -- the equivalent to knocking down the columns in Mizzou's quad.
"You guys are the news guys on the block, so you know you ain't getting anything handed to you," the fan writes.
Read Alabama's five tips for beating Auburn after the jump. In order to help the Missouri Tigers beat the Auburn Tigers, the Alabama fan offers a few tips:
Auburn Alumni on Flickr
Auburn's Tiger mascot is down for the count.
1. Don't even try to understand Auburn's mascot. This year's SEC championship is an all-Tigers game, but Auburn's version of Missouri's M-I-Z-Z-O-U rally cry is: "War Eagle."
"They think they are the tigers," the fan writes. "But they also have this eagle that flies around their stadium. So are they the tigers or the eagles? Well, who knows?"
2. Don't fall for trash talk or cheap shots. It's a mistake to get riled up when Auburn fans and players start talking smack, says the Alabama fan.
"I know it's hard, but just keep your cool against these guys," he writes. "They can get to be real hot heads, so just let them be their own worst enemy."
3. Show up. The Georgia Dome is just a two-hour drive from Auburn, and their fans are die-hards.
Dave Newman on Flickr
Auburn fans in a sea of orange.
"The place is going to be overrun with a pack of goat herders the likes you have never seen before," fan 5026 writes. "If at all possible, just steer clear of any of that orange you see around ATL. Just avoid these people at all cost, and you will have a much more enjoyable weekend."
4. Make them pass. A missed field goal was Alabama's downfall in their game against Auburn, but this fan warns Mizzou against their offensive line's speed. If the Missouri defense can force quarterback Nick Marshall to throw long passes, Missouri defensive backs might be able to pick off an interception.
"Do not bait them to run," he writes. "Instead, dare them to pass."
5. Don't panic. The Alabama fan calls Auburn one of the luckiest teams in the league -- a hard fact to deny after they miraculously returned Alabama's failed field goal last week for a 100-plus-yard touchdown to win the game.
"I haven't figured it out yet, but AU is, and has been for a long time, the luckiest team in America," write the Alabama fan. Saying luck accounts for a team's wins might sound like sour grapes, but there's a lesson in there for Mizzou: When you're ahead, don't be satisfied; and when you're behind, don't panic. Things can change in an instant.
"For all the hype, there is no way Auburn is the third best team in the country," he writes. "They have a bunch of luck, but they can be beaten. You can beat them."
Follow Lindsay Toler on Twitter at @StLouisLindsay. E-mail the author at Lindsay.Toler@RiverfrontTimes.com.