Accuweather
This weather could really give us the shaft.
Slip on your raincoats, St. Louis. A coming storm could leave us covered in wintry white precipitation.
The week after Thanksgiving started out warm with temperatures in the 50s and 60s, but a winter storm threatens to leave St. Louis at least partially covered with the S word:
Snow.
(Get your mind out of the gutter.)
Temperatures may dip below freezing starting Thursday, and snow and freezing rain are likely for the rest of the week.
Check back with Daily RFT to find out how many inches we'll get.
If this map isn't enough, check out five more of our favorite weather maps after the jump! Just because we can, here are five of our favorite naughty weather maps: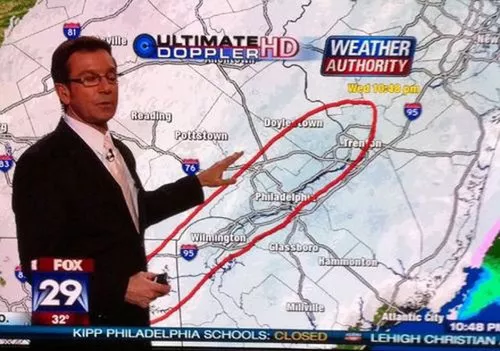 Follow Lindsay Toler on Twitter at @StLouisLindsay. E-mail the author at Lindsay.Toler@RiverfrontTimes.com.