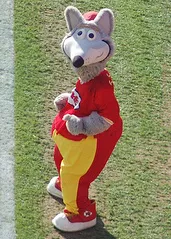 Out.of.focus on Flickr
KC Wolf
Football is a dangerous sport, and not just for the players.
The man behind the KC Wolf mask was seriously injured last week in a zip line accident during rehearsal at Kansas City's Arrowhead Stadium, and his attorney is blaming the company that installed the rigging.
Dan Meers, 46, worked as the St. Louis Cardinals' Fredbird and the University of Missouri's Truman the Tiger before joining the Kansas City Chiefs 24 years ago.
See also: Very NSFW: Is This the Official KC Royals Mascot Getting a Lap Dance?
Meers injured his back badly enough to require surgery but is in stable condition after falling from the zipline. Meers' lawyer, Tim Dollar, says they plan to investigate the third-party company that installed the zip line.
Meers was practicing changes for his entrance during the November 24 game, where the San Diego Chargers beat the Chiefs 41 to 38.
Meers, who has three children, is active at a Lee's Summit church. About 25 friends and church members joined him at the hospital last week during his surgery.
"These are not minor injuries," said Rod Handley, the minister at Meers' church, to the Associated Press. "This is very serious."
The company responsible for installing the zip line has not yet been named by Meers or by the team.
Follow Lindsay Toler on Twitter at @StLouisLindsay. E-mail the author at Lindsay.Toler@RiverfrontTimes.com.