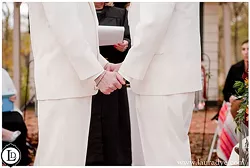 Same-sex marriage is officially the law of the land in Illinois.
If you're thinking of crossing the river to tie the knot, you probably have questions. Equality Illinois, a statewide LGBT advocacy group, will be hosting Q&A forums throughout December. (See dates below.)
Until then, here are six common questions about gay marriage in Illinois and their answers, via Equality Illinois:
See also: Illinois Makes Same-Sex Marriage Official, Businesses Prepare for Wedding Boom
1. When can I get married in Illinois?
Illinois will recognize same-sex marriages starting June 1, 2014.
2. What if I'm already married? Do I have to get an Illinois marriage license?
No. Unless your marriage is common law, a marriage certificate from out of state is recognized by Illinois.
3. Where do we get a marriage license?
At the county clerk's office. Find a list of them on the Illinois elections website. In most counties, the license costs $30.
4. Can a county clerk refuse to issue a marriage license because he or she objects to our relationship? No. They have to follow the law.
5. Can I get married if I am already in a civil union?
Assuming you are marrying the person in your civil union, then the answer is yes. For the first year, you can "upgrade" your civil union to a full-blown marriage for free in Illinois simply by following the same steps as any other couple.
6. Does a church or clergy member have to solemnize my marriage?
No. Your marriage may be certified by a religious official in good standing, a judge or a public official whose powers include the solemnization of marriage.
To ask more questions about gay marriage in Illinois, come to one of these forums:
Dec. 3, 6 p.m., Bethany of Fox Valley United Methodist Church, 2200 Ridge Ave., Aurora
Dec. 4, 6 p.m., Countryside Unitarian Universalist Church, 1025 N. Smith St., Palatine
Dec. 9, 6 p.m., St. John's Lutheran Church, 4501 Seventh Ave., Rock Island
Dec. 10, 6 p.m., Unitarian Universalist Church, 4848 Turner St., Rockford
Dec. 10, 6:30 p.m., Center on Halsted, 3656 N. Halsted St., Chicago
Dec. 11, 6 p.m., Champaign Public Library, Robeson Pavilion Room C, 200 W. Green St., Champaign
Dec. 12, 6 p.m., Church of the Good Shepherd, 515 S. Orchard Drive, Carbondale
Dec. 12, 6 p.m., Phoenix Center, 109 E. Lawrence Ave., Springfield
Dec. 17, 6:30 p.m., Southwestern Illinois College, Room 2106 Liberal Arts Building, 2500 Carlyle Ave., Belleville
Jan. 14, 2014, 6 p.m., Bloomington Police Department, Osborn Room, 305 S. East St., Bloomington
Follow Lindsay Toler on Twitter at @StLouisLindsay. E-mail the author at Lindsay.Toler@RiverfrontTimes.com.