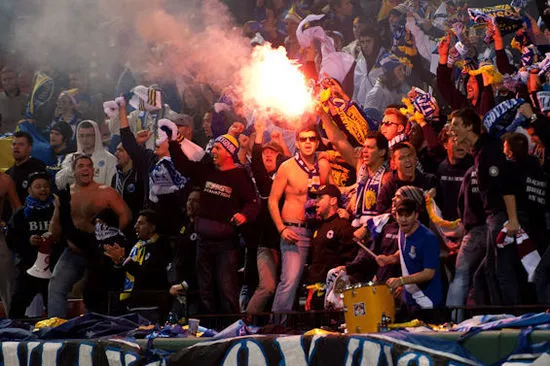 Riverfront Times
Bosnians light flares during a friendly match at Busch Stadium.
The flares lit by Bosnian soccer fans at last week's international friendly game did no damage to Busch Stadium, but they set off a firestorm on social media last week as St. Louisans reacted in ways that were by turns curious, angry and downright xenophobic.
See also: PHOTOS: Argentina Wins at Busch Stadium, Bosnians Celebrate Anyway - With Flare
Busch Stadium is fresh on the minds of most in St. Louis. Just three weeks before, 47,000 baseball fans packed the place to watch the St. Louis Cardinals take on the Boston Red Sox in Game 5 of the World Series. (It didn't go so well.)
The scene Monday was very different: A mostly Bosnian crowd made up for the smatterings of empty seats by cheering, jumping and singing constantly with electrifying frenzy. Even as the Bosnia-Herzegovina national team trailed by two to Argentina, fans pulled out hand-held road flares, a signal of celebration in countries where soccer -- not baseball -- is king.
"That's how you cheer on your team," says Erna Grbic, 31, whose family was one of the first to move to St. Louis from Bosnia, eventually establishing south city's Grbic Restaurant. "That's how you show respect for your team. We're going to do it the way we would do it in Bosnia."
Riverfront Times
Bosnia fans cheer.
When the long weekend of celebrating was over and everyone checked their Twitter feeds the next morning, Bosnians were heartbroken to find that St. Louisans weren't focused on the epic parade leading to the stadium or the frenzy of fan support, Grbic says.
Instead, they were focused on the flares. In posts escalating from irritated to upset to racist, St. Louisans demanded answers from security about allowing fire in their baseball stadium.
Twitter had burst Bosnia's proverbial bubble -- one that had been growing in St. Louis for twenty years.
Read why Monday's game meant so much to St. Louis' Bosnian community and see more online reaction after the jump. As Yugoslavia dissolved into war in the '90s, Bosnians emigrated en masse to St. Louis, eventually building a community of more than 70,000 that would give River City the largest Bosnian population per capita outside of Bosnia.
Now, for the first time since becoming an independent nation, the Bosnian national soccer team has qualified for the FIFA World Cup, an international championship tournament that makes the World Series look like Opening Day. The achievement is particularly meaningful for St. Louis Bosnians because Roosevelt High School and Saint Louis University alum Vedad Ibisevic scored the qualifying goal.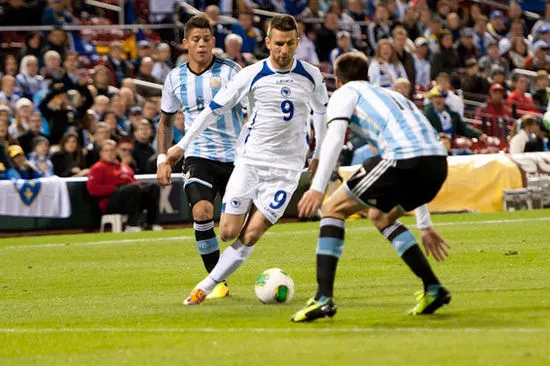 Riverfront Times
Vedad Ibisevic at Busch Stadium
See also: Busch Stadium Soccer: Injury Pulls Messi from Roster, But Ibisevic Is the Real Draw
Facebook
Erna Grbic, at her family's restaurant.
"This was the first positive thing that has happened to us since the war," Grbic says. "We live and breathe soccer. This is solidifying us as more than just a war-torn country. We're doing something that's pulling the community together."
Grbic and her family run the south city restaurant of the same name, specializing in Eastern European and Bosnian food.
To host this history-making team in her family's adopted home was "one of our proudest moments," Grbic says.
But all St. Louisans could see was the fire.
See the St. Louis Twitterverse go crazy over flares after the jump. Non-Bosnians in the stands excitedly shared videos and photos of the flares in Busch Stadium as the ultimate sign of extreme, hardcore fandom. No one was hurt or arrested because of the flares, and the St. Louis Fire Department was nearby, just in case.
But the further those images traveled from the stadium, the more negative reactions became.
See also: What St. Louis Should Call Me: Soccer Fans Pitch Ideas for Major League Team Name
While many in St. Louis just seemed fearful for the safety of their beloved baseball heaven...
...others used the incident to spew xenophobic nonsense, criticizing Bosnians for not celebrating sports like "real" Americans.
"This is USA, not Bosnia!" one irate commenter posted on STLToday.com. "No fires! How many arrests were made? Or were they all given the sympathy pass? It's time to take back St. Louis! Zero tolerance for animalistic behavior!"
"It was a jab to the culture, to the Bosnian community," Grbic says. "It was almost as if those people had said something to each of us individually. Bosnains are as much Cardinals fans as anyone else. We drink Bud Light just like everyone else does."
The Bosnian community fought back in full force, sending tweets, messages, e-mails and even death threats to anyone criticizing them online.
Veneta Rizvic, a Mizzou alumna who says she doesn't usually talk about her Bosnian heritage, was one of many who took to the Internet to explain why she was hurt by St. Louis' reaction to the flares.
"We didn't move to St. Louis to 'invade your space' or to 'wreck YOUR baseball field.' (It's not actually yours, anyway, we pay taxes, too,)" blogs Rizvic, who grew up in St. Louis. "Most of us moved here because we HAD to, but we have come to love it so much. So we would really appreciate it if you tried to love something of ours as well."
Bosnian fans point out that they were still celebrating even after losing 2-0 to Argentina; their momentum only screeched to a halt when they saw St. Louisans speak out against the flares.
"I ask that you please not hate on us, because soccer is more than a game," blogs Sead, a nineteen-year-old college student. "Don't wreck our hearts because we wrecked your field. It's more than that. We couldn't be more thankful for having the opportunity to live our lives in a non-war torn environment."
Facebook
Erna Grbic, at the Bosnia v. Argentina game with friends
Grbic says Monday's game meant a mini tourism boom for Bosnian and sports-themed businesses in town. Grbic Restaurant was full for several days straight, and St. Louis party institution Social House hosted huge celebrations for Bosnians parading to the game and celebrating after.
Bosnians from across America flew to St. Louis for the game, and in Europe, Bosnians stayed up until 4 a.m. to watch what was happening in St. Louis instead of the other way around.
"Even for a friendly game, the entire country of Bosnia was awake and watching," Grbic says. "They were just so proud of everyone who was in America."
But the real story's just getting started. The Bosnia-Herzegovina team is planning to challenge the U.S. national team in March in St. Louis.
And there will be flares.
"In case somebody didn't hear us last time, we'll be even louder next time," Grbic says.
Follow Lindsay Toler on Twitter at @StLouisLindsay. E-mail the author at Lindsay.Toler@RiverfrontTimes.com.