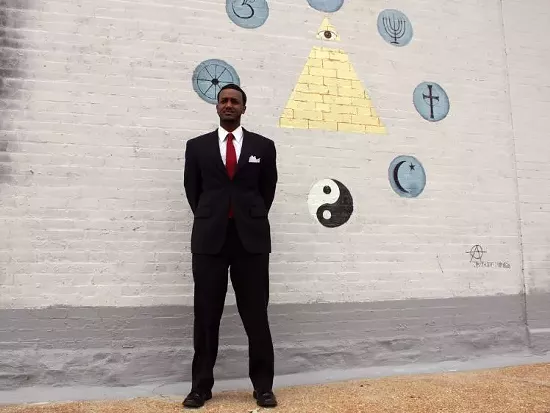 Danny Wicentowski
Abdul Kadir Mohamed stands in front of a mural on the side of his office building. He specializes in immigration cases.
It's nothing out of the ordinary for the American Civil Liberties Union of Missouri to call Abdul Kadir Mohamed.
A Somali immigrant-turned-immigration-attorney, Mohamed, 30, has often worked pro bono cases for the ACLU. So he wasn't surprised when the group's program director, John Chasnoff, contacted him in February regarding a Missouri University of Science and Technology student who needed representation during an FBI investigation.
But Mohamed tells Daily RFT that he's since been placed on a government watch list for air travel, suffering unexplained delays and multiple missed flights. "This is wrong," the lawyer insists. "It's unjust."
See also: Taxi Commission Suspends License of Muslim Driver Raja Naeem: Religious Discrimination?
Mohamed says that he met his client on February 9 and helped him draft a statement for the FBI. One week later, two agents, "Mr. Miller" and "Mr. Roper," interviewed the student in Mohamed's Lafayette Avenue office.
That should have been the end of the story, Mohamed says. It wasn't until he tried to fly to Texas on June 18 that he realized that, for whatever reason, his name had ended up on a watch list.
After receiving an e-mail from his airline informing him that his reservation needed "special handling," Mohamed spent hours waiting at the check-in desk with no explanation. Eventually, he was told that he could not fly but would be allowed to travel the next day, for which the airline provided a new ticket.
Mohamed was given the name of a website and a phone number where he could file complaint with the U.S. Department of Homeland Security, which he did. He eventually received a "redress number," which is supposed to allow those who have mistakenly been added to the watch list to avoid the frustration of added screenings.
Here's an excerpt from the letter Mohamed received from the DHS that arrived with his redress number:
The U.S. Government has completed our review of your case. Your experience was most likely caused by a misidentification against a government record by random selection. We regret any inconvenience that you may have experienced and, where appropriate, have made updates to our records that may assist in avoiding future incident of misidentification.
But "future incident of misidentification" did occur: In October, Mohamed was mysteriously delayed when he tried to fly to New York City but was able to make his original flight. However, earlier this month he was again delayed for hours at the check-in desk and missed his flight. The redress number provided by DHS didn't seem to make any difference.
See also: Sgt. David Bonenberger Awarded $620,000 for "Reverse Discrimination" by St. Louis Police
"It's frustrating," says Mohamed, who escaped war-torn Ethiopia with his family as a child in the early '90s. "I've lived in the States for almost 24 years now. I'm a U.S. citizen, I'm educated here, I graduated high school, college, law school. I've gone through the scrutiny of the state bar."
"The only explanation I have," he concludes, "is that it is based on your name and national origin. There is no system, it's just a bucket."
Hina Shamsi, director of the ACLU's National Security Project, says that problems such as Mohamed's are common. The government's watch list potentially includes millions of people.
To be clear, Shamsi says that Mohamed doesn't appear to have been placed on the FBI's no-fly list, since he was, in fact, allowed to fly. Rather, she says that he's probably been put on a list for secondary screening.
"The major problem with the watch list is that it's huge," she says. "The potential placement on the system is very broad and very vague, and trying get yourself off that system is a very frustrating process for many people."
Shamsi says that many citizens like Mohamed don't know if they will be significantly delayed the next time they visit the airport, redress number or not.
The system is a mess, basically. Here's another excerpt from the letter Mohamed received from the DHS Traveler Redress Inquiry Program.
We have found less than 1% of [complainants] actually have some connection to the Terrorism Watchlist. Complaints most often arise either because the traveler's name and personal information is similar to the name and personal information of another person...
It remains unclear why Mohamed was placed on the watch list, and Shamsi notes that Mohamed's connection to the FBI investigation could be pure coincidence.
Daily RFT reached out to the FBI, and an official with the Terrorist Screening Center provided this statement:
The Terrorist Screening Center does not comment on individual cases and does not disclose who is on the watchlist due to security concerns. If such information was disclosed, terrorists could possibly identify ways to elude security measures that have been put in place to protect the American people. Individuals who believe they may have been misidentified can seek redress through the DHS Traveler Redress Inquiry Program.
Continue to read the full letter Mohamed received from DHS
Here's the full text of the letter:
Abdul Kadir Mohamed - DHS by Danny Wicentowski
Follow Danny Wicentowski on Twitter at @D_Towski. E-mail the author at [email protected]