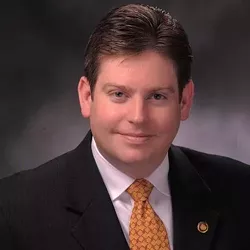 Nick Marshall, a Missouri state representative
Republican state representative Nick Marshall will try to impeach Governor Jay Nixon after he ordered the Missouri Department of Revenue to allow legally married same-sex to file joint tax returns.
Marshall says his decision is about protecting the Missouri constitution, which forbids gay marriage, and not about targeting LGBT couples.
"If Missouri were a state that allowed gay marriage, we wouldn't be having this conversation. But it's not," says Beth Peters, Marshall's legislative assistant. "What is the point of voting if however you vote is going to be circumvented [by an executive order]?"
See also: Missouri to Gays: You Can't Get Married Here, But We Will Take Your Tax Dollars
Marshall, who represents a county north of Kansas City, threw down the gauntlet on Facebook:
Peters says Nixon's latest executive order follows a disturbing trend of Nixon ignoring the state's constitution. She points to two other examples -- Missouri's rejection of the REAL ID act of 2005 and the release of the names of gun-permit holders to government agencies -- as times when Nixon's approach conflicted with state law.
See also: Brian Nieves' Facebook Rant On States' Rights: Governor Is "B____ Slapping" Constitution
"This is strike three," Peters says.
Read about strikes one and two after the jump.
Strike one started in 2009, when Missouri rejected a federal proof-of-identity law known as the REAL ID Act that would have required Missouri to keep copies of personal documents, like birth certificates or concealed gun permits. The anti-terrorism law drew privacy concerns from many, leading twelve states to reject the law before Missouri's vote.
But after rejecting the law, Missouri began scanning and saving some documents in a way that came close to the REAL ID act -- too close for Marshall's comfort.
"There's the spirit of the law, and then there's what the law actually does," Marshall said during a bipartisan investigation, according to the Missouri Times. "The spirit of the law was obviously to keep Missouri from complying with REAL ID, but you're trying to tell me right now that just because we are comparable with the law, that doesn't mean compliant. But to be comparable you undertook measures that compliance calls for, and that's what the law was trying to stop."
Marshall accused Nixon then of attempting to comply with REAL ID, a law Missouri had already rejected.
See also: Gun Owner Privacy Debate Prompts Budget Proposal To Kill Missouri License Bureau
Strike two is all about guns.
Earlier this year, the Missouri Highway Patrol admitted to releasing the names of 163,000 concealed-weapon permit holders to federal agencies investigating a disability fraud.
Marshall sponsored a resolution and called on the governor to investigate and discipline the people responsible.
"As our governor took this same oath to protect both [the U.S. and Missouri] constitutions, he is mandated by law to abide by this duty and demonstrate that direct laws broken by executive officials will not be tolerated by our state," Marshall said.
Now, Marshall is applying his literal view of the constitution to Nixon's order allowing gay married couples to file joint taxes. The state constitution forbids gay marriage.
"What he's doing is pretty much illegal," Peters says, adding that Marshall's objections are constitutional, not personal.
"It has nothing to do with what people want to do in their personal lives."
But a federal ruling in August determined that legally married same-sex couples can file federal taxes jointly whether or not their state of residence recognizes their marriage, and the Missouri attorney general's office has announced that Nixon's order is in line with state law.
"You swore to uphold the constitution," Peters says to Nixon.
"Do it."
Follow Lindsay Toler on Twitter at @StLouisLindsay. E-mail the author at Lindsay.Toler@RiverfrontTimes.com.