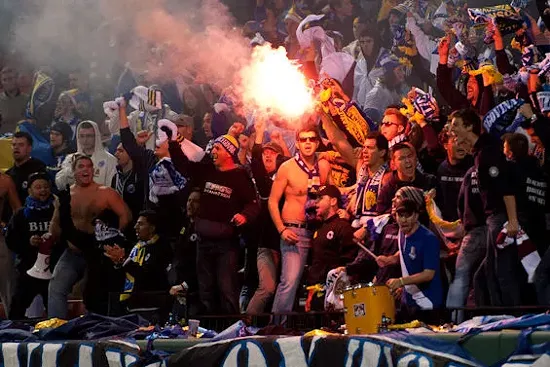 Fans of Bosnia-Herzegovina's national soccer team light flares at Busch Stadium. SEE ALL PHOTOS
Their team may have lost, but St. Louis Bosnians went wild watching a world-class soccer friendly last night in a game largely overshadowed by America's love for Monday Night Football.
Nearly all of the 30,000 fans at the game were loud-and-proud Bosnians, some even setting of flares in Busch Stadium, earning cheers from fellow soccer diehards and anger from Cardinals fans who don't like seeing fire on their baseball field.
"Women can't bring purses to NFL games but Bosnians can bring flares into Busch Stadium. This is USA, not Bosnia!" one irate commenter posted on STLToday.com. "No fires! How many arrests were made? Or were they all given the sympathy pass? It's time to take back St. Louis! Zero tolerance for animalistic behavior!"
See also: Photos: Bosnia and Herzegovina's Home-Away-From-Home Game
St. Louis may be a soccer town, but angry tweets reminded soccer fans that the game is still a fringe interest in America's wide world of sports.
The international friendly played a little under the radar for most sports fans, who were watching the Carolina Panthers steal a 24-20 victory over the New England Patriots during Monday Night Football. Even folks in St. Louis weren't sure why body-painted Bosnians had taken over their town last night.
See more photos of the game and fans after the jump.
St. Louis has more Bosnians per capita than anywhere in the world outside of Bosnia, but Monday's game was a special treat for player Vedad Ibisevic, who moved to St. Louis as a teenager and played soccer at Roosevelt High School.
Riverfront Times
Vedad Ibisevic grew up in St. Louis and played school and club soccer here. SEE ALL PHOTOS
Argentina's Sergio Aguero scored two goals against Monday night, filling the cleats of the South American team's star player Lionel Messi, who is out on injury.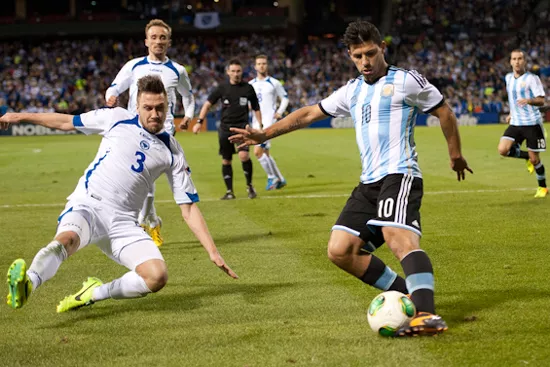 Riverfront Times
Sergio Aguero, one of the top players in the English Premier League, scored two goals for Argentina to seal the win. SEE ALL PHOTOS
Aguero also earned the game's only yellow card for a mean-spirited kick to a Bosnian player's legs while the ref wasn't looking.
See also: Busch Stadium Soccer: Injury Pulls Messi from Roster, But Ibisevic Is the Real Draw
See also: If We're Such a Soccer Town, Why Doesn't St. Louis Have a Major League Soccer Team?
Follow Lindsay Toler on Twitter at @StLouisLindsay. E-mail the author at Lindsay.Toler@RiverfrontTimes.com.