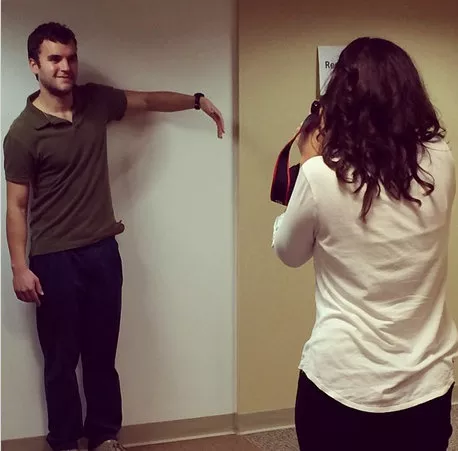 Courtesy of Megan Weaver
It's an "invisible" girlfriend. Get it?
Ever wish you could have all the benefits of dating without actually speaking to another person? Want to show off to your friends and family without going to any effort? Do you have more money than social skills?
There's an app for that.
Invisible Girlfriend, designed to provide credible-though-fake social proof of a girlfriend, was the big winner at Startup Weekend St. Louis on Sunday, where entrepreneurs and tech geeks brainstorm big ideas for online startups and vote for their favorites.
The site's prototype includes three pricing plans: "Just Talking" for $9.99 per month, "Getting Serious" for $29.99 per month and "Almost Engaged" for a whopping $49.99 per month. The most expensive package includes SMS texts from a robot, an emergency interaction button, random gifts and notes sent to home or work, real voicemails, a coupled relationship status on Facebook and live phone calls.
"We're not trying to build a girlfriend they can believe in -- that's a whole other level of technology," says creator Matt Homann. "We're giving them a better story to tell, even if the story isn't true."
Homann bought the domain InvisibleGirlfriend.com more than three years ago. He calls it a "drunk domain," one you buy on a whim at 3 a.m. because it only costs $7 and forget about in the morning.
"I haven't done a single thing with it except share stories about how dumb the domain is," Homann says. "At the last minute, I thought, 'I'll pitch Invisible Girlfriend and Invisible Boyfriend, if not just for a laugh.'"
The idea got more than a laugh. Homann soon found himself with four professional developers, two designers and a handful of business and social-media experts ready and willing to turn his idea into a product.
"It went from, 'Let's have some fun. Let's make everyone laugh,' to, 'We have the making and talent to build something that works,'" Homann says.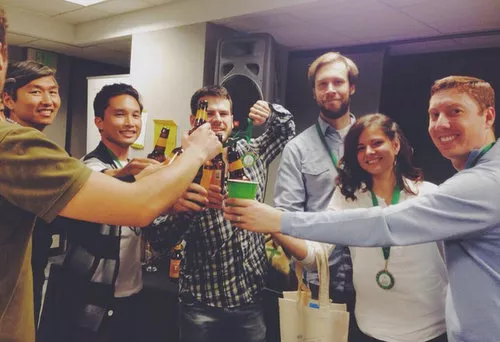 Megan Weaver
The Invisible Girlfriend team celebrates their win.
The team wants to build Invisible Boyfriend, too, and Homann says both sites will be LGBT friendly.
As the winners from this weekend's startup frenzy, the team won $3,000 -- not what Homann calls "real money," but a small acknowledgment.
"These things are all done on a shoestring," Homann says. "We've got a lot of work to do before someone writes us a big check."
See also: Hear the One About the Guy Who Dumped His Girlfriend Live on the Point?
We'd say the real winners of this weekend are the men and women who need help lying to their loved ones about having a boyfriend or girlfriend.
"This is the business of helping [clients] tell a lie -- we're thinking of it more as a shield -- to have the excuse ready in hand and not have to be uncomfortable," says Homann. "It's lightweight but credible social proof."
Follow Lindsay Toler on Twitter at @StLouisLindsay. E-mail the author at Lindsay.Toler@RiverfrontTimes.com.