Der Vollstrecker on Flickr
A guillotine
Missouri's been having a hard time deciding how to kill people.
When the European Union caught Missouri using their drug to execute death-row prisoners, the continent threw a fit, threatening to withhold a widely used pain medication from the U.S. Officials delayed scheduled executions and went hunting for a new drug, finally landing on penobarbital, which means dealing with barely regulated, sketchy pharmacies protected by law from being named in public.
The first to face the new drug is Joseph Franklin, sentenced to death for killing 42-year-old Gerald Gordon in a 1977 sniper attack outside a suburban St. Louis synagogue. Franklin will be executed at midnight Wednesday morning (Tuesday night).
See also: Joseph Franklin, Serial Killer Who Shot Larry Flynt, Gets Execution Date in Missouri
Governor Jay Nixon denied clemency to Franklin Monday afternoon, calling his crimes "merciless acts of violence, fueled by hate."
Hustler magazine's Larry Flynt, who is paralyzed because one of Franklin's bullets went through his spine, has asked repeatedly to stop his would-be killer's execution because of the secrecy surrounding the execution process.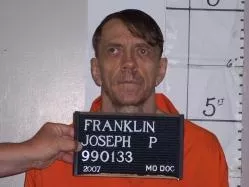 "Until the death penalty is abolished, the public has a right to know the details about how the state plans to execute people on its behalf," Flynt says.
See also: Hustler Founder Larry Flynt to Missouri: Don't Execute Joseph Franklin
Polls show public support for capital punishment has reached an all-time low, especially as the secrecy and confusion over execution drugs and protocols increase.
That's why -- and hang in there with us for a minute -- Missouri should consider the guillotine, the decapitation machine that grew to fame in 1790s France -- instead of an untested drug cocktail for tonight's execution.
Read our five reasons after the jump. Here are five reasons why Missouri should use the guillotine, not penobarbital, to kill Franklin:
1. It's faster. Experts have no idea how long it will take for Franklin to die. The drug that is supposed to stop his heart is not regulated by the FDA, so there's no guarantee it's strong enough to kill Franklin quickly. According to the state's new lethal injection protocol, an unnamed medical professional will inject Franklin with ten grams of penobarbital, wait and see if he's still breathing, then inject ten more. Death by guillotine takes less than a second.
Der Vollstrecker on Flickr
2. It's probably not as painful. We say "probably" because, again, since the FDA doesn't regulate the execution drug, there's no way to know how potent it actually is. If it is contaminated, Franklin will feel as though his veins are being scrapped with sandpaper as he dies, a professor of anesthesiology from Harvard Medical School told Mother Jones. While there's still some question over whether decapitation keeps the brain active enough to momentarily feel pain, executioners could avoid it by administering anesthesia.
3. The organs could be donated. There's a fierce debate over whether to allow inmates, who are not free men and women, to donate organs. But if executed inmates were allowed to donate, death by decapitation would keep the heart, liver, lungs, kidneys, eyeballs -- everything -- chemical-free and ready for transplant.
4. Doctors wouldn't violate the Hippocratic oath. All Missouri prisoners must be executed by medical professionals, according to the state's protocol, but the Hippocratic oath forbids doctors from killing patients. So who is executing Missouri's prisoners? We don't know. That's part of why Larry Flint is suing the state over its execution rules: to find out what kind of medical professional will execute his would-be murderer.
5. It's easy to use. Building a guillotine only costs a few thousand dollars, and it requires minimal upkeep, setup and oversight. Using the machine is so simple that someone besides a medical doctor could be trained as executioner.
Missouri is most likely not going to switch to a guillotine tonight to execute Franklin (though other Missouri lawmakers have proposed gas chambers).
But it seems a lot less complicated than Missouri's current method: a hopefully lethal cocktail of drugs from unregulated pharmacies.
Follow Lindsay Toler on Twitter at @StLouisLindsay. E-mail the author at [email protected].