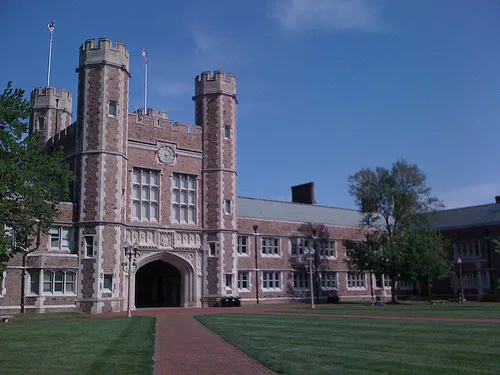 grabadonut on Flickr
Washington University wins the 2013 title for Smartest College in America.
Washington University beat out the Massachusetts Institute of Technology, Princeton University and 453 other colleges to win the title of America's smartest college.
The ranking comes from researchers at Luminosity, which creates digital brain-training games, who studied how 70,000 current college students scored in five key areas: memory, processing speed, flexibility, attention and problem solving.
Washington University students had the highest score, earning the school Lumosity's designation as the most intelligent university in the country. Washington University came in sixth place last year.
See also: Washington University Students Are Very Happy, Love Campus Food, Dorms: Report
Wet-blanket warning: Intelligence is notoriously difficult to measure, and there is no peer-reviewed research to prove that Lumosity games are a valid or reliable means of ranking school smarts. (But as long as Washington University smartypants are winning out over Ivy Leaguers, does anyone really care?)
University of Missouri-Columbia comes in at No. 248, and UM-Kansas City ranks No. 235. The University of Kansas ranks No. 61.
Continue reading for a complete listing of the universities and their rankings as well as more data from the Lumosity research team. America's smartest colleges of 2013 in order are: Washington University, Massachusetts Institute of Technology, Princeton University, Northwestern University, Carnegie Mellon University, University of Chicago, Rice University, Harvard University, Yale University and Dartmouth College.
Read Lumosity's study to see where other schools ranked.
America's Smartest Colleges 2013
Follow Lindsay Toler on Twitter at @StLouisLindsay. E-mail the author at Lindsay.Toler@RiverfrontTimes.com.