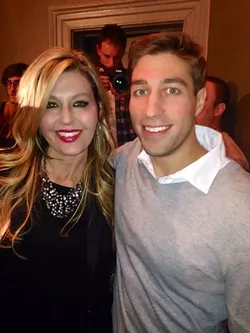 Melanie Moon on Facebook
Melanie Moon poses with Ryan Ferguson, who was freed after ten years in prison.
A Twitter conversation about the ethics of reporters hugging their sources went off the tracks Wednesday when KPLR (Channel 11) anchor Melanie Moon joined in to advocate for a recently freed prisoner based on factually inaccurate information.
Moon, known for investing herself emotionally (and publicly) into local stories, has closely covered the case of Ryan Ferguson, who served ten years in prison for the murder of a Columbia journalist -- a murder he says he did not commit. The contentious case drew international attention when Ferguson was freed this week after the court vacated his charges because prosecutors withheld information from his lawyers.
Before Ferguson's first press conference as a free man, Joy Mayer, a journalism professor at the University of Missouri-Columbia, says she gave her student journalists a heads up:
"Remember that people are going to be really excited, and it's going to feel like a celebration," she remembers saying. "Your role is to cover that and not to personally celebrate."
Mayer was right. The Associated Press likened the press conference to an election night watch party -- full of cheering and excitement.
Moon, who traveled from St. Louis to Columbia to cover Ferguson's release, hugged him and his father at the press conference. Her action promoted a few tweets from curious onlookers: Moon eagerly admits the hug.Then things get bizarre.
Watch the conversation devolve into confusion and read the tweets Moon has since deleted after the jump.
In a series of tweets that have since been deleted, Moon defends her hug, saying Ferguson was falsely accused and unfairly imprisoned. She seems to say that because Ferguson is definitely innocent, she can join in celebrating his release even though she's a journalist covering his case for a St. Louis audience. Moon even gets a little snarky, taking a sarcastic jab at Renee Hulshof, whose husband, Kenny, who had several cases overturned upon review while working as Attorney General Jay Nixon's special prosecutor:

Twitter
Screen-grabbed because the tweet has since been deleted
Just one problem with Moon's stance: Ferguson was not found innocent. There's no proof he was falsely accused or wrongly imprisoned. He is free because prosecutors did not submit all evidence to Ferguson's defense team, a fact Mayer and other journalists quickly point out. The court ruled to vacate Ferguson's conviction because he is either innocent or his due process was violated, according to
court documents
. Moon incorrectly quotes the court's ruling over and over again. Moon is not the only journalist getting the court's ruling half-right:
Mayer says she was startled by Moon's unfounded assertions of Ferguson's innocence.
"It seemed like this reporter was saying, 'I made those ethical choices because I was on the side of what is right,'" Mayer says. "Her perception of what is right wasn't rooted in fact..., When I saw she was basing her decision to display her jubilation on something that was not factual, then I got more fired up than curious."
Mayer, the director of community outreach at the Columbia Missourian, says she hopes her students learn from this case that their tweets, like their news stories, should be accurate.
"Your credibility hinges on what you do publicly," Mayer says. "You need to be able to stand behind your tweets the same way you stand behind a news story."
But no one's perfect. So when you mess up in a tweet, Mayer says, admit it.
"The answer is hardly ever to delete [tweets] and pretend it didn't happen," Mayer says. "They don't evaporate when you hit delete. There's not a big giant take-back. There's no control-Z."
Continue reading to see Mayer's complete record of the conversation between Moon and other journalists on Twitter.
Follow Lindsay Toler on Twitter at @StLouisLindsay. E-mail the author at Lindsay.Toler@RiverfrontTimes.com.