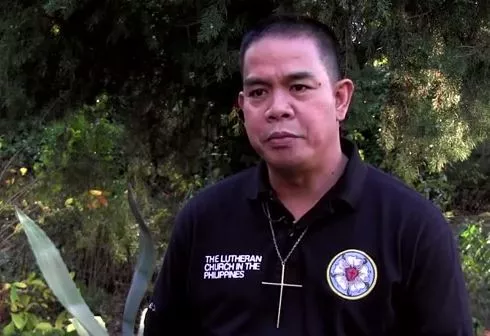 Lutheran Church-Missouri Synod
Rev. James Cerdeñola, president of the Lutheran Church in the Philippines (LCP), updates church members after Typhoon Haiyan.
The Lutheran Church-Missouri Synod plans to raise and distribute $1 million worth of aid and supplies over the next three weeks in the Philippines, where Typhoon Haiyan tore through on November 8, causing wide-reaching devastation and more than 10,000 deaths.
The church planned to have members from Missouri on the ground in the island nation Wednesday to help the 23,000 baptized Filipino members and their communities after houses, churches and livelihoods were washed away in giant storm-surges.
But the church was forced to delay the trip by three days, citing safety and security concerns. Even groups like the U.N. and Doctors Without Borders have said they're prevented from reaching outlying areas because of the wreckage, the lack of food or water and the looting and stealing of people desperate for help.
"Right now, to carry anything with you, you really face a risk of being robbed or it being stolen; people are desperate," says Rev. Glenn Merritt, director of disaster response for the church, who says he's communicated via e-mail and phone with pastors in the Philippines. "Travel and communication is still a problem, but it's getting better."
Lutheran Church-Missouri Synod
Rev. Glenn Merritt, director of LCMS Disaster Response
The Lutheran Church in the Philippines has particularly close ties to Missouri. Missionaries from Missouri started working in the Philippines in 1946, eventually founding almost 200 churches with 300 pastors.
Merritt hasn't heard from all of the congregations, but so far, none of the church members are reported to have died in the storm. Three churches in the Tacloban area were destroyed, as well as the houses, farms and ranches of congregation members.
"Their livelihood is gone," Merritt says.
The church has already donated $200,000 to partner Filipino churches and is quickly raising another $100,000. Merritt expects to raise a $1 million over the next three weeks.
Continue reading to see where that money will go. Where that money will go depends on what churches in the Philippines want.
"With Americans, we may look and say, 'You need this and this and this,' but that may not be what they need," Merritt says. "We always step back and say, 'How can we help you?'"
The church is buying and shipping vacuum-sealed packs of rice and beans, water and shelter packs -- two wooden planks, a metal roof and a heavy-duty tarp -- to distribute to typhoon victims.
Merrit wants to buy those supplies in or near the Philippines, where they are cheaper and arrive quicker, and says American donors can help most by donating money -- not food or clothes.
"Not to be crass, but what we say to folks is your financial support of the work we're doing is the most effective way you can help us respond at this time," he says.
An eight-year veteran of disaster-relief work, Merritt compares the devastation he'll face on Saturday to the earthquake/tsunami that rocked Japan in 2011, which killed 18,000. And just like there, Merritt and his team will drop everything to help victims however they can.
"We're driven by that mercy of God and Christ to reach out to others," he says. "We have to do it. We're driven to do it.
"We can't not do it."
Follow Lindsay Toler on Twitter at @StLouisLindsay. E-mail the author at Lindsay.Toler@RiverfrontTimes.com.