Dave Herholz on Flickr
Cherokee Street got a shout-out in Southern Living Magazine.
Antiquers, rejoice!
Cherokee Street is the next best thing, says Southern Living magazine in a new travel feature.
Built from scratch by young entrepreneurs without a cohesive master plan, Cherokee Street is home to antique shops, neighborhood cafes, progressive galleries and the highest concentration of Mexican restaurants in the city.
See also: First Look: Whisk A Sustainable Bakeshop Hits the Sweet Spot on Cherokee Street
"Cherokee Street is to St. Louis what St. Louis is to the rest of the country," STL-Style shop owner Randy Vines tells the magazine. "It's often overlooked, but anyone who takes the time to explore it will find how special and vibrant it is."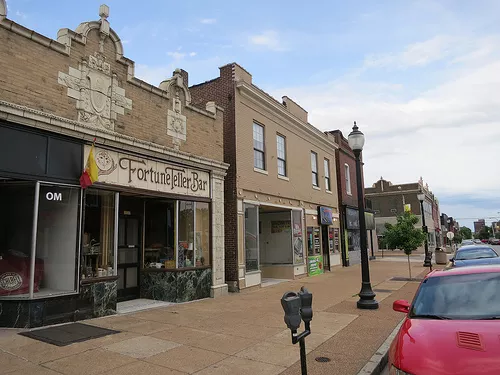 Paul Sableman, Flickr
Cherokee Street, featuring the Fortune Teller Bar.
Travel writer Stephanie Granada highlights nine of Cherokee Street's gems: Siete Luminarias, the Fortune Teller Bar, Scarlett Garnet, STL-Style, Whisk Bakeshop, Retro 101, Foam Coffee & Beer, Junk Junkie and several art galleries.
The story was getting lots of love on Twitter and on the Cherokee Street neighborhood blog earlier this week, even if Missouri isn't technically in the South.
"Southern Living? *scratching head* St. Louis?" one commenter added to the story. "It's nice to see good press, but I think you put this in the wrong magazine."
Follow Lindsay Toler on Twitter at @StLouisLindsay. E-mail the author at Lindsay.Toler@RiverfrontTimes.com.