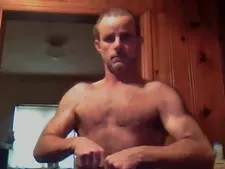 Grieg Ragen/Facebook
Ragen, convicted cat killer, showing off his pecs.
Grieg Ragen says he was just putting Molly, an eleven-year-old calico cat, out of her misery after she got hit by a car. But the judge didn't buy that story and sentenced him to four years in prison.
The cat killing happened on May 8, 2012, the Post-Dispatch reports. According to a probable-cause statement, Ragen said he found the cat lying on the road, apparently hit by a car. And in order to end the cat's suffering, he grabbed a hatchet and chopped up Molly.
However, a veterinarian's autopsy report showed that the only injury the cat had was a severed spine - apparently from Ragen's hatchet work.
On September 26 a Jefferson County jury found Ragen guilty of felony animal abuse, a class D felony under Missouri law that is subject to a maximum penalty of four years in prison. Circuit judge Troy Cardona gave Ragen the maximum.
How does Missouri rank in severity of punishments for animal abusers? Continue reading to find out (and to watch the cutest cat video ever). See also: Washington University Stops Using Live Cats in Training Class After Years of PETA Protests
As for the severity of the penalty, it appears that Missouri is about average when it comes to punishing animal abusers.
According to the Humane Society, Kansas, Ohio, Idaho, North Carolina, North Dakota and South Dakota are the easiest on felony animal abusers with a maximum of one year in prison.
But animal abusers in Alabama, Arkansas, and Louisiana can get up to ten years. Several more states hand out sentences between three and seven years.
Puerto Rico seems to be the toughest of all U.S. locations on animal crime, with a maximum penalty of fifteen years in prison and a $10,000 fine for people who kill pets.
And who can blame Puerto Rico for that when there are videos like these?
Follow Ray Downs on Twitter at @RayDowns. E-mail the author at Ray.Downs@RiverfrontTimes.com.