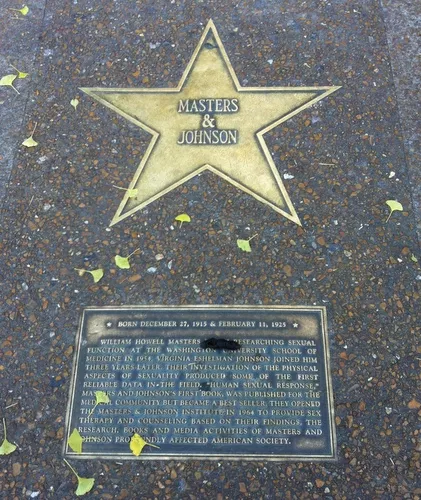 Your poop does not belong in the Loop!
Dear inconsiderate St. Louis dog owner,
I'm proud of St. Louis. We may not be the most exciting place in the world, but there are a few things we do well.
And you managed to shit all over two of them.
(Well, not you, most likely. I'm guessing it was your dog. But STILL.)
Come down to the Delmar Loop -- officially named one of the 10 greatest streets in America -- on any nice day, and you'll see plenty of tourists and St. Louis County folk pursuing the names on our Walk of Fame stars on their way to eat frozen yogurt and buy overpriced T-shirts. Nelly, Maya Angelou, Chuck Berry, Kate Chopin, Yogi Berra, William Burroughs -- we've had some influential, accomplished people call St. Louis home, and our Walk of Fame celebrates them.
So when your dog sniffs at one of the stars, turns around a few times and then SQUATS DIRECTLY OVER THE STAR TO UNLEASH A STEAMING LOG, you should probably clean it up. Especially when you're three feet away from a trash can, WHICH YOU WERE.
Poop on the Masters & Johnson Walk of Fame star.
Now, I'll admit -- some of the folks honored in our Walk of Fame are a little...obscure. I didn't know who Ernest Trova was off the top of my head. But then I looked him up, and he's amazing. A surrealist and pop-art-painter-slash-sculptor, Trova studied post-industrial dystopia through his The Falling Man series featuring headless, potbellied human figures polished to mirrored perfection -- an accomplishment that rocked the art world in the '60s -- and donated 40 sculptures that helped open the Laumeier Sculpture Park.
Trova's work may be a little esoteric, but that's the hidden beauty of the Walk of Fame: It's a mini history lesson for those who want to feel closer to their city. And it's right at your feet.
But for all the unknown, obscure stars out there, your dog chose to unload on the star of a couple so famous that Michael Sheen and Lizzy Caplan play them on a Showtime series called Masters of Sex.
Masters and Johnson. Would you poop on their faces like you did on their star?
Washington University researchers Bill Masters and Virginia Johnson earned their Walk of Fame star by revolutionizing our understanding of sex, discovering treatments for dysfunction, debunking the theory that clitoral orgasms are inferior to vaginal orgasms and proving that women can have multiple orgasms.
If that doesn't deserve a star, I don't know what does.
In the end, I used my brown suede boots to kick your animal's still-wet dung under the trash can just a step away because I care about our history, our city and our orgasms.
Plus, it's a sidewalk. People walk here, and stepping on a fresh turd is just the worst.
So know this: If I ever catch you walking away from your pet's fresh pile of poop on one of our monuments to St. Louis pride again, I swear to the eternal Joe Edwards I will say the magic Missouri spell that releases the souls of Ike Turner and Ulysses S. Grant and HAUNT YOUR THOUGHTLESS ASS for the rest of time.
Clean up your Loop poop...or else,
Lindsay
Follow Lindsay Toler on Twitter at @StLouisLindsay. E-mail the author at Lindsay.Toler@RiverfrontTimes.com.