Oftentimes the history of a city can be drowned out and forgotten by the present. But Francis Horton decided to create a reminder of the past by blending it with the present.
In these seven photos, Horton, a 30-year-old IT professional, journalist, photographer, and army veteran who served in Iraq and Afghanistan, found historical photos of different locations in St. Louis and used Photoshop to blend them with new photos. The result is haunting and fascinating.
Horton tells Daily RFT that the inspiration to do the photos came from other historical blends he had seen and being " intrigued with the idea of combining the old with the new."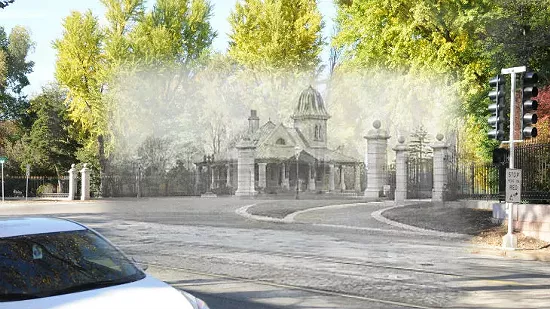 "There is a lot of history surrounding St. Louis," he says. "And I've always wanted to find a way to capture and share the city in a new way. I've loved the history of this city and state for years, so when I saw other examples of the blended photos, I decided to do the same on a bit of a local scale."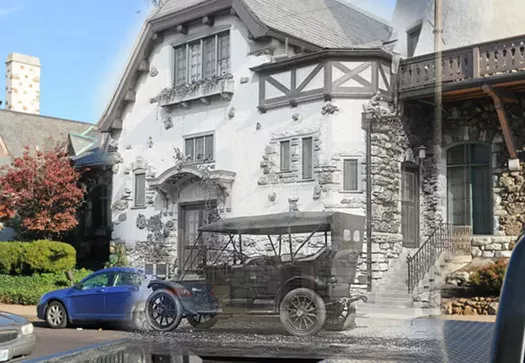 See also: Portraits of the Spooky, Abandoned Ballroom in the Jefferson Arms (PHOTOS)
Horton also finds pieces of St. Louis' history in the things we often overlook.
"When I'm in unfamiliar parts of the city, I'm always trying to find bits of the old St. Louis," he says. "If you're looking closely, you can see small glimpses of the old city peeking out. From uncovered cobblestones and trolly tracks during road construction to covered building facades and old advertisements painted on the sides of buildings."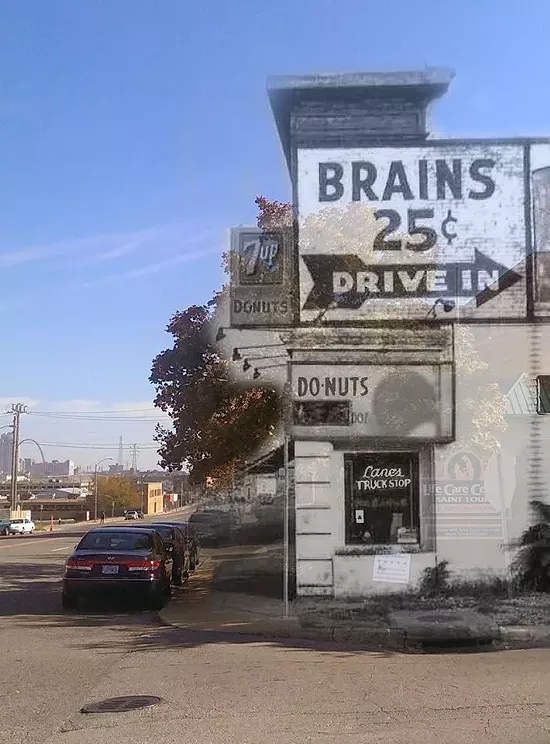 See more of Horton's historically blended photos on the next page. To do the project, Horton says, he found a repository of free-to-use historical photos online. He would then view the photo on his phone and try to find the same shot location.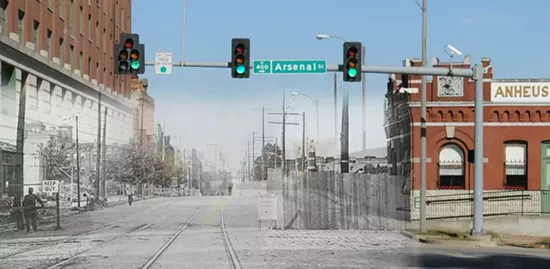 "After that, just some work in Photoshop," he says.
Not every historical photo was able to be blended with a modern one. Horton says that it wasn't always doable to find the same shot location, and sometimes there just wasn't enough resemblance between the old and the new.
"Many times an entire area has been demolished and rebuilt and no longer looks the same as it did a hundred years ago," Horton says.
See also: Post-Apocalyptic Portraits of the Abandoned Forest Park Hospital
But in the historically blended photos, Horton says, the contrast is another way to view the city of St. Louis.
"Really, I created the blends for other people to try to see the city the way I do. If you pay attention, you can see contrasts all over the city," he says.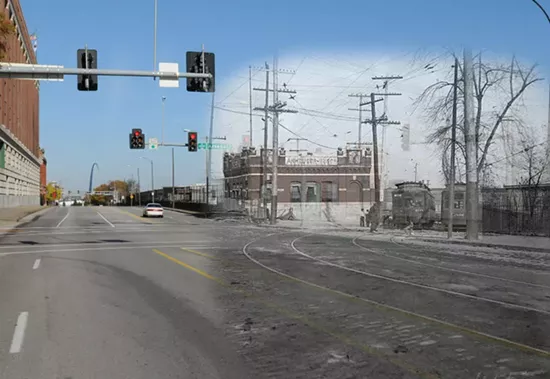 In addition to historically blending photos, Horton runs a website with his wife called Craves, Caves, and Graves, which is about interesting places to visit in and around St. Louis. Check it out here. You can also check out Horton's own blog at South City Hoosier..
Follow Ray Downs on Twitter at @RayDowns. E-mail the author at Ray.Downs@RiverfrontTimes.com.