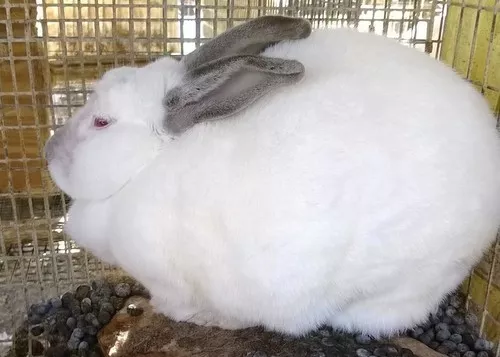 Humane Society of Missouri
One of the rabbits rescued Tuesday from St. Clair.
The Humane Society of Missouri and the Franklin County Sheriff's Office rescued 253 animals, including 192 rabbits, 25 goats, 21 chickens, 10 cats, 4 dogs and a duck from a property near St. Clair on Tuesday.
The animals were living in filthy conditions on a property where, in 2010, 158 rabbits, dogs, cats, goats and fowl were also rescued, and the owner was restricted by the Franklin County Prosecutor from buying new animals for two years.
Rabbits crammed into dirty cages on a property in St. Clair.
Clearly, two years wasn't enough. A concerned resident reported the property to the Humane Society of Missouri's Animal Cruelty Task Force, which joined with the sheriff's office to remove the animals Tuesday.
See also: Stray Rescue: 22 Dogs Rescued from North, East, South St. Louis This Weekend
Feces piled below crammed rabbit cages
Feces was piled in the rabbits' cages, as well as more than a foot under the cages, says the Humane Society. The cages, which housed as many as ten cramped rabbits, were encrusted with dirt and hair. The rabbits had little to no shelter from the weather, and their drinking water was frozen, dirty and contaminated with feces.
The animals seemed to have received little to no veterinary care, including the goats, which are suffering from an upper-respiratory illness.
See also: Mysterious Good Samaritan Returns Stolen Maltese Puppies to Lake St. Louis Petland
The rescued rabbits, dogs and cats will be taken to the Humane Society shelter in St. Louis for triage and care. The goats, chickens and duck will be taken to the Humane Society of Missouri's Longmeadow Rescue Ranch in Union.
To report animal abuse, call 314-647-4400.
Follow Lindsay Toler on Twitter at @StLouisLindsay. E-mail the author at Lindsay.Toler@RiverfrontTimes.com.