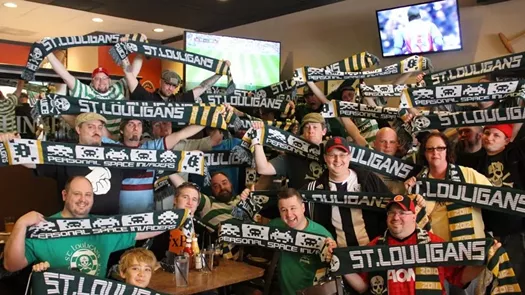 If you tailgate, they will come.
There's no MLS team in St. Louis, but for the St. Louligans, a group of men and women who love soccer, getting together at soccer games around town and showing there's a strong fan base in place is one way to attract the deep-pocketed investors who have the means to bring the country's top soccer league to River City.
The official stance of the St. Louligans is to support soccer in St. Louis, which means tailgating and going to games to see the Ambush, Lions, and Fire and Ice. But according to Mitch Morice and Brad DeMunbrun, the goal is to one day tailgate in the parking lot of an MLS team -- and to have some fun and connect with other soccer fans along the way.
See also: If We're Such a Soccer Town, Why Doesn't St. Louis Have a Major League Soccer Team?
"The last several teams that moved into the MLS, they started at a lower level," DeMunbrun tells Daily RFT. "And we want to create that fan base so that if and when investors come to St. Louis, they can see there's a fan base there already, they're supporting a lower-level team, and we want to get more people out to show St. Louis is ready to take that next step."
Soccer fans in St. Louis had to take a step back in 2011 when AC St. Louis, fraught with financial problems and mismanagement, was forced to dissolve after only one season. But it was during that season when the original St. Louligans met, and after AC St. Louis was no more, they vowed to keep trying to bring top-level soccer back to town.
Since then, they've made it a point to not only support the lower-level teams, but also create
podcasts
, frequently updated
Twitter
and
Facebook
accounts with soccer news, and even sell some merchandise to help supplement the cost of the organizing activities.
"People just jump in and do what they can," Morice says. "We don't have any dues, and we don't have any membership requirements other than show up."
Read how the St. Louligans are working behind the scenes to bring River City a USL Pro team after the jump. But the St. Louligans are not just about keeping intact a devoted soccer fan base. They also work behind the scenes with St. Louis Lions owner Tom Glavin and his front office to show St. Louis can support a USL Pro team, despite the failure of AC St. Louis.
"Tony Glavin has made no secret that he wants to move up to USL pro, which would be the third division of the soccer pyramid, so we work with him," Morice says. "The Ambush are talking with Tony about maybe taking that next step going together. We're actively working the relationships and asking the team what we can do for them. In turn, they love us being out there."
DeMunbrun adds that the podcasts and social-media presence the Louligans provide are part of what help promote the teams locally.
"Most of these teams in the area don't have big budgets or huge marketing teams, but a lot of it is this day-in and day-out thing," he says.
Morice and DeMunbrun know it'll take some time to get big-league soccer to St. Louis, but they say the Louligans will keep doing their thing until that day comes.
"It's definitely an organic thing; it's not something that's gonna happen overnight," Morice says. "But at some point in time to have the top-level team St Louis can support."
In the meantime the group can be found tailgating around town at the pro amateur teams, and count on them being a big presence at the upcoming Bosnia vs. Argentina friendly on November 18.
"It'll be no different than an NFL tailgate that a lot of people are used to," Morice says of the Bosnia vs. Argentina bout. "Just show up to the tailgate, have a beer or a soda or a hot dog and join us."
Follow Ray Downs on Twitter at @RayDowns. E-mail the author at Ray.Downs@RiverfrontTimes.com.