Book House
The Book House needs to raise more than $25,000 so it can go back to looking like this.
Michelle Barron hopes she gets to spend Black Friday at work because that would mean her store, the Book House, would finally be open and ready for customers.
All that stands in her way is money. Barron needs enough cash upfront to pay the contractors who must totally redo her firewalls, electrical, plumbing and floors before inspectors say she can open, and costs have doubled from her original estimate.
Barron took her plea for money to Kickstarter, where she's raised half of her $10,000 goal in just four days.
"It's been one expense after another after another," says Barron. "We need to raise between $25,000 and $50,000, but we made our goal $10,000 so we can be sure we hit it."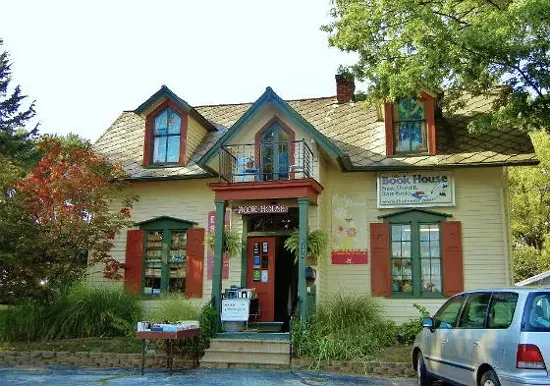 Book House
The Book House, under construction in Maplewood.
The bookstore was kicked out of its Rock Hill space last spring to make way for a storage facility, sending Barron into a frantic 90-day search for new digs. She's moving the store into a vacant storefront on Maplewood's main drag, but moving and construction costs are threatening to keep the store closed during the vital holiday shopping season.
See also: The Book House: Shop in Historic House Gets Eviction Notice, Storage Site in the Works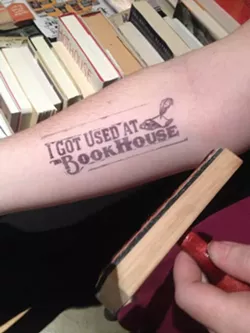 Get a stamp with a $2 donation to the Kickstarter campaign.
Barron originally estimated the project would cost $50,000. The move itself cost $15,000, and, Barron says, she has already spent $38,000 between the move, the construction and lost revenue from closing down.
"I just had no idea it was going to be this hard to pass the building codes," says Barron, who thinks she'll spend almost $100,000 before she can open her doors. "Our business plan was to be open by now. We knew we were getting a fixer-upper, but we thought we could fix one small piece of it and open up. Maplewood is making us fix the whole thing."
Barron says she's paying with money she had saved for her 27-year-old developmentally disabled daughter, who has cerebral palsy.
"I'm spending her retirement fund as well as mine," Barron says. "We have tried everything under the sun."
Find out how to get your very own bookshelf at the Book House after the jump. Barron chose her new location at 7352 Manchester to stay close to the store's roots (and customers) in St. Louis County.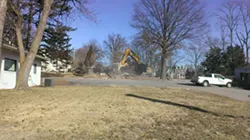 Book House
It costs HOW MUCH for drywall?!
"We were trying to find something iconic, something old and historic, because that's kind of what we're known for," Barron says. "We could have moved down into the city, but we've always been the county bookstore. We didn't want to compete."
Barron is offering some clever incentives for those who donate to the Kickstarter fundraising campaign. Anyone who pledges $500 gets their own shelf in the store.
"That can be your bookshelf," Barron says. "You can choose what is carried on that shelf."
See also: Book House Gets New Home in Maplewood, Demolition Likely for Historic Rock Hill Site
For now, the store doesn't actually have any shelves.
"We can't put the bookshelves in until the electrical and drywall passes inspection," Barron says. "The books are still in boxes."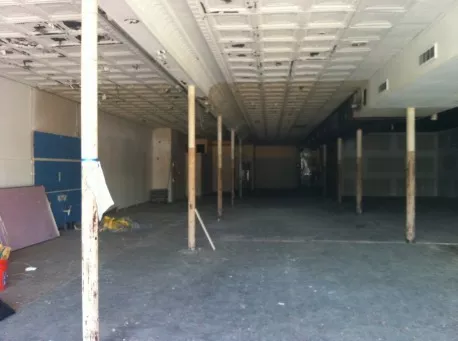 Book House
No book shelves in this store...yet.
If Barron gets the money she needs, she hopes to spend Thanksgiving Day with her three children unpacking the books and putting them on shelves.
To donate, find the Book House's campaign on Kickstarter.
Follow Lindsay Toler on Twitter at @StLouisLindsay. E-mail the author at Lindsay.Toler@RiverfrontTimes.com.