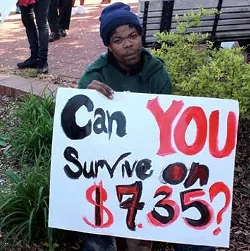 Krystyna Ninh for RFT
A St. Louis worker protests the minimum wage.
The Missouri Department of Labor will increase the minimum wage to $7.50 per hour from $7.35 on January 1.
The 15 cent increase follows a 2006 ballot measure where Missouri voters overwhelmingly approved cost of living increases for the state minimum wage.
As prices of everyday goods -- including health care, groceries and childcare -- continue to increase, experts say the 15 cent boost helps families keep up with costs.
"It means that our hard-working neighbors can buy as much bread and milk at the neighborhood store next year as they were able to buy this year," says Lara Granich, director of Missouri Jobs with Justice, which was part of the 2006 campaign to increase the minimum wage. "The cost of living adjustment in Missouri's minimum wage keeps the lowest paid people in our economy from falling further behind."
A full-time worker in Missouri will earn $15,600 with the increase.
See also: Photos: Fast Food Workers Strike for Higher Pay
Families with more children are struggling to make ends meet, even with the increase, says liberal think-tank Economic Policy Institute. Child care costs consume 11 percent of the budget for a two-parent, one-child family, but those costs nearly double to 20 percent for two-parent, three-child families.
A two parent/two child family in St. Louis needs to bring in $64,332 a year to secure decent housing, according to the institute.
The federal minimum wage is $7.25 an hour. In Illinois, the minimum is $8.25.
Follow Lindsay Toler on Twitter at @StLouisLindsay. E-mail the author at Lindsay.Toler@RiverfrontTimes.com.