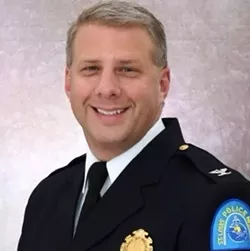 Metropolitan Police Chief Sam Dotson will take to Twitter today in a Q&A with any tweeps who have questions about crime fighting in St. Louis.
The chat runs from noon to 1:30 p.m. To ask a question, tweet at the chief's Twitter handle: @ChiefSLMPD.
If you can't think of any questions, we have a few ideas:
1. Ever consider changing your name to "Chief Nissan"? 2. Can you whip out a murder-scene zinger like a TV show cop? 3. Dunkin or Krispy Kreme? 4. Can you help me figure out who's my secret Santa at work? 5. Do you play the good cop or the bad cop to a perp in the box? 6. Can the bad guys really smell fear? What aftershave/cologne/deodorant is best for masking that aroma?
And in case you're curious what the chief tweets:
Follow Lindsay Toler on Twitter at @StLouisLindsay. E-mail the author at Lindsay.Toler@RiverfrontTimes.com.