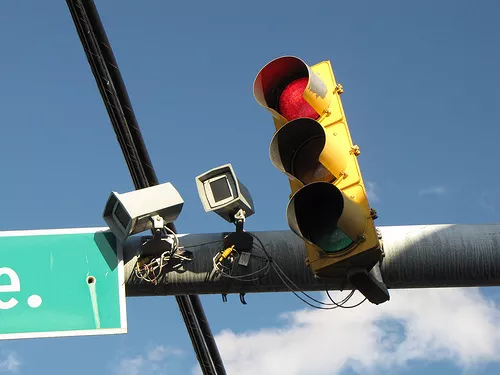 Ben Schuman on Flickr
Don't like stopping at red lights? Please don't drive, says St. Louis' city counselor.
The Missouri Court of Appeals struck down a red-light-camera ordinance in St. Louis County this week, leading St. Louis City residents to wonder what it means for them.
Patricia Hageman, the city's counselor, summed it up in a tweet as impressive for its brevity as it is for its snark:
See also: Missouri Court Rules Ellisville Red Light Cameras Violate State Law St. Louis' red light cameras are still operational and will likely not be as affected by the court's ruling as cities like Ellisville, Kansas City, Creve Coeur and Hazelwood since those cities punish the owners, not the drivers, of cars that run red lights.
"If you get receive a red-light-camera ticket in the city of St. Louis, then you need to pay it or contest it in court," says city spokeswoman Maggie Crane.
Last week's ruling conflicts with previous court rulings about how red-light-camera programs should work in Missouri, and officials expect one of those cases will eventually make it up to the Missouri Supreme Court for clarification.
Since St. Louis started a red-light-camera program, violations at camera intersections have gone down by nearly two-thirds, Crane says.
Read Crane's full statement after the jump. Here's the full statement from city spokeswoman Maggie Crane about how recent red-light-camera court decisions affect St. Louis city:
I have received several inquires about the City's red light camera program in light of the Ellisville ruling, which City Counselor Patti Hageman has been studying. She has determined that:

The City of St. Louis Red Light Camera Safety Program remains open and fully operational.

A recent court decision regarding the Ellisville program does not affect the City of St. Louis' red light camera program. If you receive a red light camera ticket in the City of St. Louis, then you need to pay it or contest it in court.

Because Missouri cities have taken varying approaches as to how they present red light citations to vehicle owners and operators, there have been a number of appellate court decisions regarding the differing programs. But one thing has remained consistent: the appellate courts repeatedly have re-affirmed the authority of cities to regulate traffic safety through the use of red light cameras.

Because of conflicting court rulings regarding the procedural aspects of red light camera programs throughout the State, the City expects that the State Supreme Court will eventually clarify the procedures that cities must use for the issuance of citations. While some jurisdictions may need to change their procedural approaches, red light safety camera programs will continue.

City Counselor Patti Hageman advises that, "the law remains that red light safety cameras are constitutional, legal and valid safety tools. The recent Ellisville court decision does not impact the St. Louis City red light camera safety program."

Unlike Ellisville, the City's program allows vehicle owners to refute that they were driving at the time of the violation. Also unlike Ellisville, the City's ordinance makes no mention of whether the State will assess "points" for a red light camera violation, a matter the City's program has left up to the State.

Since the inception of red light safety cameras in the City of St. Louis, violations at camera intersections have gone down by nearly two-thirds.
Follow Lindsay Toler on Twitter at @StLouisLindsay. E-mail the author at Lindsay.Toler@RiverfrontTimes.com.