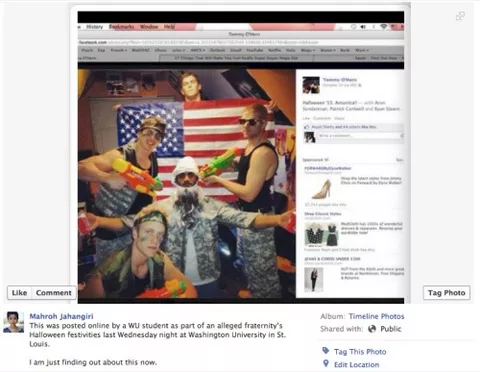 A screenshot of the offending Facebook post, which has since been taken down.
A Halloween photo of three Washington University students dressed in military fatigues pointing Super Soakers at a student dressed as Osama bin Laden went viral Wednesday, sparking outrage over anti-Muslim sentiments on the Danforth campus.
College officials called an emergency meeting Thursday morning, but by then the photo had already drawn more than 750 likes and been shared more than 150 times.
See also: Washington University Stops Using Live Cats in Training Class After Years of PETA Protests
Senior Mahroh Jahangiri reposted the photo with a seven-paragraph explanation describing it as a sign of "a broader, more aggressive (and apparently violent) Islamophobia rampant here at WashU" and urged students to "RAISE HELL ABOUT THIS," according to the university's student paper.
Jahangiri adds:
This photo implies that not only are Muslims not American, their lives are expendable. They can (and should) be brought to their knees with guns pointed at their damned faces...I find it hard to believe that if this was a black man or a gay man or a Latino man with guns aimed at his face that black students or queer students or Latino students would not have been up in arms. But because the costume did not represent my friends' communities, it did not warrant a response.
Brandon Wenerd, a writer for BroBible, a website for "bro" culture, says nothing about the photo is offensive enough to cause such anger.
"These Bros are dressing up as a pretty significant event in 21st century American history: The moment the United States 'got him' -- the terrorist behind an attack that murdered 2,977 innocent Americans," Wenerd writes. "Some things are worth the outrage. I'm not quite sure this is."
This Halloween featured some particularly offensive costumes, including...
The Twin Towers. A Boston Marathon bombing victim. Trayvon Martin and George Zimmerman, seen here with "Robyn Ya Hood."
Follow Lindsay Toler on Twitter at @StLouisLindsay. E-mail the author at Lindsay.Toler@RiverfrontTimes.com.