Photos courtesy of Stray Rescue
Morgan and Stanley, two black-and-white puppies with severe skin conditions, rescued this weekend by Stray Rescue.
Stray Rescue reports it rescued 22 dogs, including two litters of puppies, from three separate St. Louis neighborhoods on Saturday afternoon through Sunday morning.
"That's a crazy amount in that amount of time," says director Jennie Foster. "Nobody could do that every day. We couldn't afford it. There's no space."
See also: Stray Rescue: Brownie The Dog Clinging to Life After Suspect Badly Burns Chained Up Animal
Near Penrose Park in north St. Louis, police reported a female dog and a litter of seven puppies living in a burnt-out garage with a collapsed roof. When Stray Rescue arrived, it found five additional strays, Foster says.
"You guys are safe now, we love you," a volunteer tells the puppies in this YouTube video:
The puppies are now staying with foster families.
Rustic, one of the dogs rescued from Penrose Park, found a cozy place to rest once back at the Stray Rescue clinic.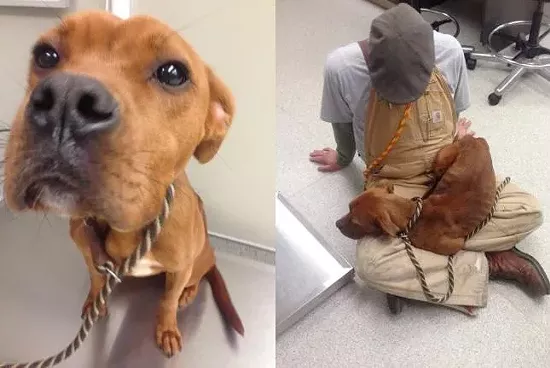 Rustic the dog cuddles after his rescue.
In south St. Louis' Carondelet neighborhood, a man throwing away his grass clippings discovered a box of nine puppies sitting on top of a dumpster.
Stray Rescue found this box of puppies on a dumpster.
"They had no idea who would have put them there," Foster says.
In East St. Louis, Illinois, volunteers rescued four mangy puppies, including Morgan and Stanley, two black-and-white puppies with severe skin conditions.
Treatment for the dogs will be expensive. To donate, log on to the Stray Rescue website.
Follow Lindsay Toler on Twitter at @StLouisLindsay. E-mail the author at Lindsay.Toler@RiverfrontTimes.com.