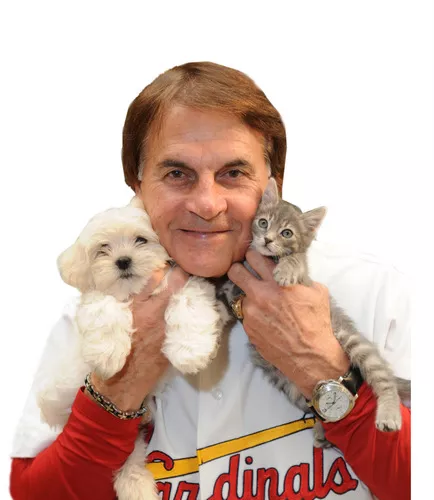 Photos via ARF
Tony La Russa is bi-petual: He loves dogs AND cats!
Baseball fans know Tony La Russa as the sunglasses-wearing, fiercely intense manager who led the St. Louis Cardinals to two World Series wins.
But Daily RFT found six impossibly cute photos of La Russa that could cheer up even a town of baseball fanatics right after a huge loss. (Know any of those?)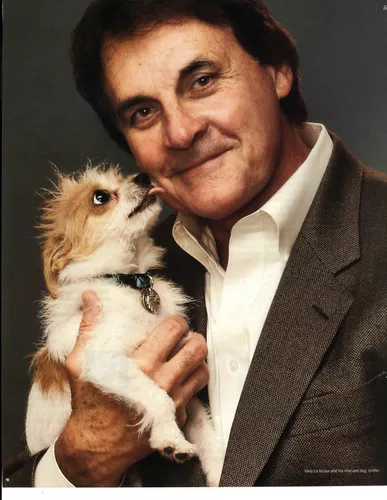 His name is Griffon, and he's giving Tony a kiss!
During La Russa's fifth season managing the Oakland A's, a stray calico cat darted into center field during a game, got spooked and ran past La Russa into the A's dugout bathroom, according to Yahoo Sports. Animal control officials took the cat away, but when La Russa learned the cat would likely be euthanized in an overcrowded shelter, he saved it by driving the kitty 25 miles to a no-kill shelter.
La Russa poses with Mustard outside his animal shelter.
La Russa founded the Animal Rescue Foundation (adorably abbreviated as ARF), and 22 years later it has found homes more than 25,000 pets.
"I don't know that man in the dugout with the sunglasses," says the organization's executive director Elena Bicker to Yahoo Sports. "The guy who shows up for work at ARF always has a smile on his face."
See more of that smile after the jump! See also: GuitARF Hero: Cardinals manager Tony La Russa rocks out for animal welfare
We've never seen such a big smile on La Russa.
On November 15, La Russa returns to St. Louis for a Purina Farms fundraiser to benefit his organization and three local animal shelters. Tickets are $100 a pop, but if you're willing to shell out $300, you get a spot at La Russa's table.
Don't mind us. Just two handsome gentlemen out on the town.
The dress code? Business casual and/or Cardinals jerseys.
Follow Lindsay Toler on Twitter at @StLouisLindsay. E-mail the author at Lindsay.Toler@RiverfrontTimes.com.