Tawanda Kunonga, 29, of Kansas City.
A Kansas City man will likely serve a life sentence for beating his ex-girlfriend with a meat tenderizer and stabbing her to death, says Attorney General Chris Koster.
A Jackson County jury found Tawanda Kunonga, 29, of Kansas City, guilty of first-degree murder and armed criminal action Tuesday for the brutal 2010 murder of Latoya Hopkins, of Raytown.
Kunonga left his fingerprint and palm print in Hopkins' blood and his DNA at the scene, according to Koster.
"This was a horrific crime," Koster says. "While nothing can lessen the loss for the victim's friends and family, at least the conviction brings some measure of justice."
See also: Tizzy Dickerson: Sentenced to Life Without Parole for Murdering Man With Car Kunonga represented himself during his seven-day trial. He was fresh off a two-year stint in jail for forgery and attempted forgery when he murdered his ex, although he did opt to be represented by a lawyer in that case, according to court documents.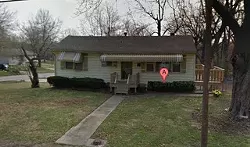 Google Maps
Latoya Hopkins' home on Elm Avenue in Raytown.
Police discovered Hopkins' body on June 15, 2010, and during an initial search of her home, investigators found Kunonga's bloody palm and fingerprints on the driver's side of a car, according to the Pitch. A neighbor told police she saw a Kunonga smiling and waving from the garage that day.
After butchering his ex-girlfriend, Kunonga changed his bloody clothes and took a shower at the house of friend who knew him only as "Z," according to the Pitch. The witness later identified "Z" as Kunonga.
The night before Hopkins' body was discovered, Kunonga boarded a metro bus while he was covered in scrapes and bite marks. When a witness who knew Kunonga as "Dread" asked about the injuries, he answered: "The bitch wouldn't let me go," according to the Pitch. In a conversation caught on bus surveillance tapes, Kunonga said he was seeking treatment at a hospital and then "going underground."
Find out how Kunonga lied at the hospital to avoid suspicion after the jump. See also: Tausha Fields: Missouri Woman Sentenced to Life After Ex-Lovers Testify Against Her
Kunonga used the name "Manjaro Kenya" at Research Medical Center, where he told doctors the cut on his right hand came from a knife while he was breaking up a fight, according to KSHB-TV (Channel 41).
Kunonga -- a.k.a. "Z," "Dread" and "Manjaro Kenya" -- faces sentencing on December 4. The only possible sentence under Missouri law is life in prison without the possibility of probation or parole.
Hopkins' family says she was in a four-year, on-again-off-again, abusive relationship with Kunonga, according to KSHB.
Jackson County Circuit Judge Charles McKenzie presided over the trial, and assistant attorneys general Julie Tolle and Monty Platz served as special prosecutors.
Follow Lindsay Toler on Twitter at @StLouisLindsay. E-mail the author at Lindsay.Toler@RiverfrontTimes.com.