Webster University is challenging the University of Missouri's hegemony in sports and outdoor advertising with an attention-grabbing billboard.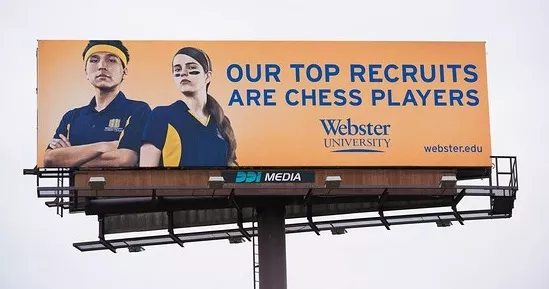 Webster University
Webster University's new billboard up between Columbia and St. Louis on I-70
MU dominates the signage along I-70 from Columbia to St. Louis with six billboards spelling out the school's nickname -- M-I-Z-Z-O-U -- and Webster is fighting back with a sign that's part-recruiting tactic, part-PR ploy and part-joke.
"Our top recruits are chess players," reads the school's billboard, now up on the same stretch of road highway that connects two of Missouri's largest universities.
John Costello, Webster's director of creative services, hopes some drivers will have a little laugh at the juxtaposition of Webster's and MU's billboards while others consider seriously if a smaller university with a winning chess team is the best school for them.
See also: Dastardly Doings in Chess World: Webster U. Poaches Texas Tech's Coach, Team
"Everyone is familiar with that gauntlet of Mizzou billboards, that's the whole reson to do it," Costello says. "We went into it thinking, how do we stand out in a sea of sameness? It was a unique opportunity to have a little bit of a sense of humor and set ourselves apart from an SEC football powerhouse."
And for something that cost just a fraction of the school's advertising budget, the billboard is a serious success, says Patrick Giblin, director of public relations.
"The billboard has done what it is supposed to do: people are talking about Webster now," Giblin says. "Webster University is not Mizzou...and I think that's part of the humor here."
See reactions from Webster student athletes and from MU after the jump. Two Webster student athletes said they were upset about the billboard, posting on social media that the message is belittling to the school's other recruits.
Kevin Miller, a sophomore basketball player, wrote on Instagram: "Webster University Athletics has won the SLIAC All Sports Trophy 9 straight years. How does @websteru repay us, by putting up a billboard saying the top athletic recruits on campus are on the chess team. I am outraged and embarrassed to be an athlete at Webster University right now."
Katie Aubuchon, a senior soccer player, posted:
Giblin and Costello, the billboard's designers, say the sign was about contrast, not about leaving other sports out. "What could be further from a football team than a chess team?" Giblin says.
Webster's chess team did win the national championships this year. (Yes, that exists, though few fans of the "sport" exist or even know about the competition.)
Webster chose the final billboard over options like, "Our class sizes are smaller than the football team's roster," or "We play football, too" with a picture of a soccer player.
The billboard even caught the eye of the Wall Street Journal, who posted a quick write-up on the sports blog.
An MU spokesman told the Wall Street Journal:
We're very flattered to know that Webster University drew inspiration from some of our messaging. In terms of the challenge to a chess match, we'll accept, as long as Webster understands that we might just award Gary Kasparov with an honorary degree from Mizzou!
Follow Lindsay Toler on Twitter at @StLouisLindsay. E-mail the author at [email protected].