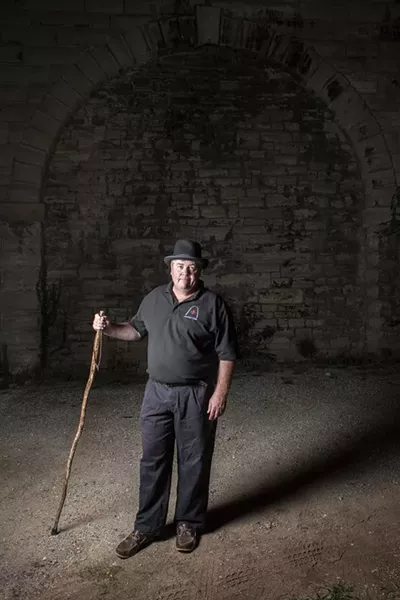 David Riordan, the man behind tours of haunted St. Louis
Ghosts are said to roam St. Louis' riverfront where thousands have succumbed to cholera, duels and other untimely deaths, and, for a price, David Riordan -- a former commodities-baron-slash-lawyer-slash-millionaire-turned-cab-driver -- will be your guide.
Walking through Laclede's Landing at night is scary enough without the promise of spooky stories. Riordan takes tourists under subway tracks and through dark alleyways near the Gateway Arch, corners typical St. Louisans avoid at night.
"If someone comes out of the woods with a chainsaw, run like hell; it's the real thing," Riordan tells his tours.
A seventh-generation St. Louisan, Riordan meets groups at Morgan Street Brewery, then guides them to spots like Clamorgan Alley, which Riordan calls "the most haunted place in St. Louis by far," where thousands of bodies were stacked during an 1849 cholera outbreak until Irish immigrant workers moved them across town.
"I have smelled death here," Riordan tells St. Louis writer Rebecca Koenig in David Riordan, Post-Recession Renaissance Man.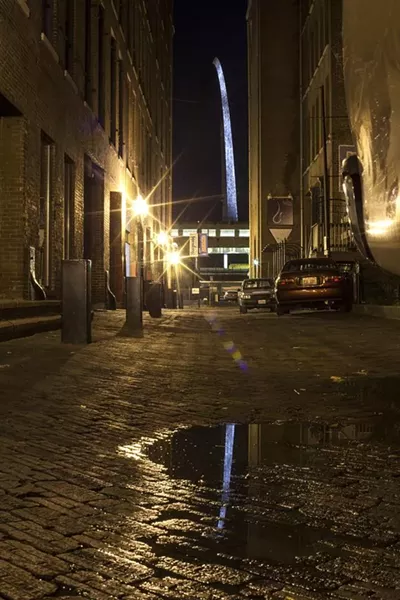 Clamorgan Alley, near the Arch in downtown St. Louis.
What's really scary is that the Arch grounds will be closed for renovations next year, forcing even St. Louis' long-standing Fourth of July event Fair St. Louis to relocate to Art Hill in Forest Park.
"I'm like, 'This sucks,'" Riordan tells Daily RFT. "But the world has changed since last night.
"I might not be driving the cab much longer."
Read about Riordan's big idea to save his business after the jump. See also: Five St. Louis Ghost Stories That Just Won't Die
During a booked tour this week (Halloween week is busy season for ghost guides), a customer asked Riordan why he doesn't do dinner theater. With a public-policy degree from Duke University, a business degree from Columbia University and a law degree from the College of William and Mary, Riordan knows a good business idea when he hears one.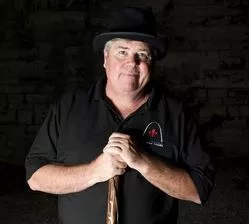 "I know I can do it," Riordan says. He's still in the planning stages, but Riordan imagines a dinner at Morgan Street Brewery -- who says its on board -- and a show where he punctuates St. Louis history with his sharp, tough sense of humor. "I can talk about anything. It's not just ghosts and spirits: the brewery, steamboats, gangsters."
Until then, the single dad is driving a cab with his family's company to pay for his daughter's tuition at the University of Kansas and his son's at MICDS.
"I do better than other cab drivers because I'm smarter than they are," Riordan says. "I hustle for fares, and when I get someone in the cab, I tell jokes and I engage them so I get really good tips."
Until then, Riordan continues guiding doubleheader tours through St. Louis' haunted underbelly.
"I don't expect we'll see ghosts tonight," he says, "but you can never be quite sure."
Follow Lindsay Toler on Twitter at @StLouisLindsay. E-mail the author at Lindsay.Toler@RiverfrontTimes.com.