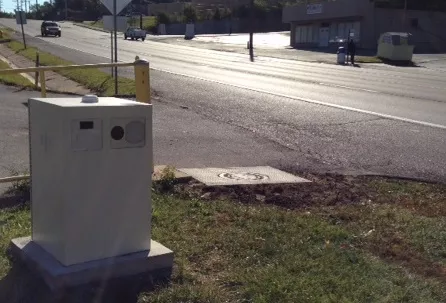 Chad Garrison
A speed camera along Page Avenue in Vinita Park.
You know that unassuming roadside box you just drove past? The one that looks like an AT&T U-verse box? Bad news: It just snapped a picture of you doing 40 m.p.h. in a 30. Expect a $100 ticket in the mail soon.
The boxes began going up over the last few months throughout north St. Louis county, with tiny Vinita Park (pop. 1,800) being one of the latest municipalities to get the devices. Vinita Park has three of the cameras and -- like most every similar device in operation in St. Louis County -- all three violate Missouri policy on speed cameras.
Vinita Park's cameras don't have warning signs as required by the Missouri Department of Transportation and are not within established school, safety or work zones -- the only three areas where MoDOT approves the use of such cameras.
So, how do municipalities like Vinita Park and Country Club Hills get away with the cameras hidden inside utility boxes?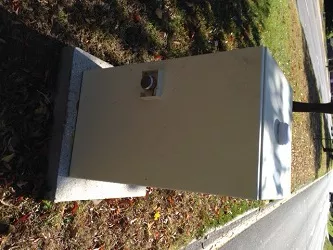 No sign warns motorists on Midland Boulevard that this benign-looking box is actually a speed camera.
"The problem is there is no state law on these cameras," explains Tom Blair, MoDOT's assistant district engineer for St. Louis. "It has been requested that MoDOT establish a policy on automated enforcement, but our policy is just that: a policy."
Blair says MoDOT recently inspected the cameras installed this fall in Vinita Park (two are located along Page Avenue; another is along Midland Boulevard across the border from Overland) and determined that the boxes sit outside of MoDOT right-of-way. Blair calls the cameras housed in utility boxes the "latest fad" in automated speed monitoring, which arrived to St. Louis in 2010 with the city of St. Ann using a mobile camera attached to a trailer. St. Louis County Police Chief Tim Fitch has a harsher assessment of the cameras designed to look like utility boxes: He refers to them as nothing more than deceptive speed traps.
See also: Speed Cameras Arrive in St. Louis
"The boxes are clearly designed to hide these cameras," says Fitch, who recently teed off on the cameras on his blog, writing: "I'm a little surprised they haven't designed one that looks like a tree or a flag pole. The first time you'll realize a camera is there, is when the ticket comes in the mail." Continue on for Fitch's unconventional advice on what to do with speed-camera citations and reaction from Vinita Park's mayor.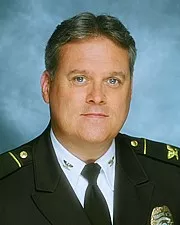 Tim Fitch can't give legal advice, but...
No public entity keeps official tabs on how many St. Louis municipalities are using speed cameras, though Fitch puts the number at around fifteen communities. All are north of Page Avenue in St. Louis County. Costs for the tickets typically run around $100. The good news? Fitch says he has yet to hear of a warrant issued for anyone who has refused to pay the infractions, and the tickets don't accrue points on a motorist's driver license.
"I don't give legal advice," Fitch tells Daily RFT. "But what I have told friends and family is if you get one of these, go find the nearest shredder and insert them into it. And when you get a letter from the law firm saying they are going to take away your first-born child if you don't pay the ticket, put that letter in the same shredder."
Vinita Park Mayor James McGee counters that Fitch can call the cameras "whatever he wants." The truth, says McGee, is that the cameras are all about safety.
See also: Vinita Park Mayor James McGee's Secretly Recorded Race Comments (AUDIO)
"We don't need the revenue," McGee says. "We've got over $1 million in the bank."
McGee recounts the story of a pedestrian struck and killed on Page Avenue near where the city has installed the cameras. "I know the victim's family is appreciative of these cameras," says McGee (who, when pressed, can't recall the victim's name or the year the person was killed).
But if the cameras are really about safety, why does the city not also have signs warning motorists that their speed is being monitored?
"We already have posted speed signs," says McGee. "And that sign says 35, not 45 or 60."
E-mail the author at chad.garrison@riverfrontfronttimes.com or follow on Twitter @chadgarrison.