Poplar Bluff Police Department
A Missouri Drug Task Force cop addressed Show-Me Cannabis, the pro-marijuana legalization group, at a town hall meeting in Cape Girardeau last Monday and engaged in a civil discussion about the benefits of marijuana legalization.
But when Sargeant Kevin Glaser of the SEMO Drug Task Force got home, he unleashed on Facebook, basically calling the legalization advocates a bunch of stupid potheads.
Here his Facebook rant, unedited:
See also: After 20 Years in Prison, Missouri Man Serving Life Without Parole for Marijuana Asks Governor for Clemency
These are the Cape Girardeau residents Glaser was dissing: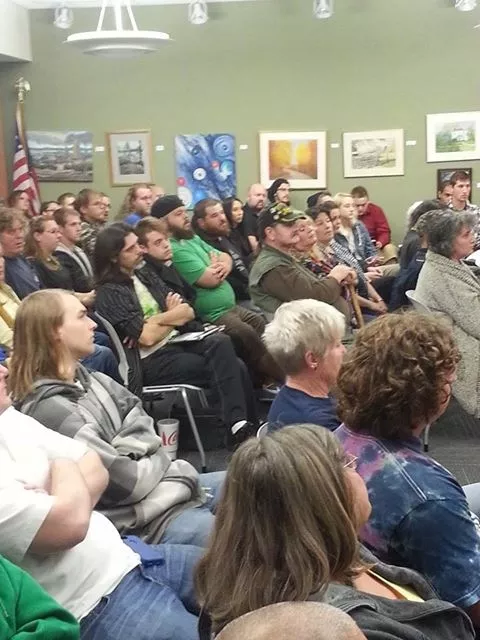 Who knew drug cops could be so snarky? Daily RFT is looking into if Glaser snapped twice and flicked his hair back after he posted this on Facebook.
Read Show-Me Cannabis' reaction to the rant after the jump. Meanwhile, Show-Me Cannabis wasn't too thrilled with Glaser's rant, and John Payne, the group's executive director, issued a statement. Here's part of it:
Such comments are thoroughly unprofessional and unbecoming of a government employee, and I believe you owe the people who attended the meeting and Missouri taxpayers generally an apology.

Moreover, I worry what the sentiment expressed in your post says about your motivations for enforcing the laws prohibiting cannabis. You seem to be motivated primarily by sheer personal animus against a group of people whom you obviously find distasteful.
Payne also invited Glaser to a debate December 12 in Poplar Bluff:
I fully believe that the more people know about this issue, the more they will be convinced that a system of legalization and regulation is a superior policy for dealing with cannabis than prohibition. I presume that you believe the inverse. If that's the case, then let us both put our convictions to the test in an open public debate.
Glaser has yet to respond to the invitation, but we'll update when we hear his answer.
Follow Ray Downs on Twitter at @RayDowns. E-mail the author at Ray.Downs@RiverfrontTimes.com.