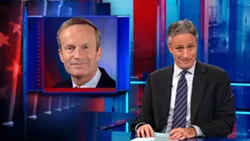 Todd Akin is Missouri's most popular late-night punching bag.
Missouri's got the Colbert bump.
America's favorite late-night funnymen, Jon Stewart and Stephen Colbert, sometimes dip into Show-Me State news for their fodder.
Progress Missouri compiled their ten favorite Missouri moments on The Daily Show and The Colbert Report:
See also: St. Louis Buycotters Featured on The Daily Show
1. Was Mark McGwire genetically engineered by Monsanto? Colbert investigates in his series "Better Know a District," focusing on Missouri's 3rd and newly formed 1st districts.
2. A classic: Jon Stewart takes on Todd Akin's "legitimate rape" comments.
4. Missouri Republican Senator Roy Blunt proposes an amendment allowing religious organizations to get out of paying for female employees' contraception, and Stewart wonders how high on blunts you'd have to be to pass it.
5. Colbert encourages Missourians to take food away from former Missouri Representative Cynthia Davis after she calls hunger a "positive motivator" for poor children in schools.
7. Jon Stewart pronounces Missouri "Missourah" and talks about Todd Akin's recovery from his "legitimate rape" comment.
8. Lincoln Republican Wanda Brown wanted to pass a law protecting Missouri gun owners, and Aasif Mandvi wants to know how it's different than the Second Amendment. It's not.
Follow Lindsay Toler on Twitter at @StLouisLindsay. E-mail the author at Lindsay.Toler@RiverfrontTimes.com.