Photos by Jon Gitchoff for the Riverfront Times
By Halloween night, the St. Louis Cardinals will either be the winners or the losers of the 2013 World Series.
Either way, we're expecting some epic Cardinals-themed Halloween costumes. (Now, if only we could find some Cardinals-themed jokes to tell! Help us out and leave yours in the comments.)
Here are six of our favorite Cardinals costumes, spotted during Game 3:
1. Wacha Wacha Fozzie Bear This is a tough costume to pull off, but it's oh so worth it! Get ready for a night of Redbird fans yelling, "Wacha Wacha!" as they give you high fives in honor of the rookie MVP.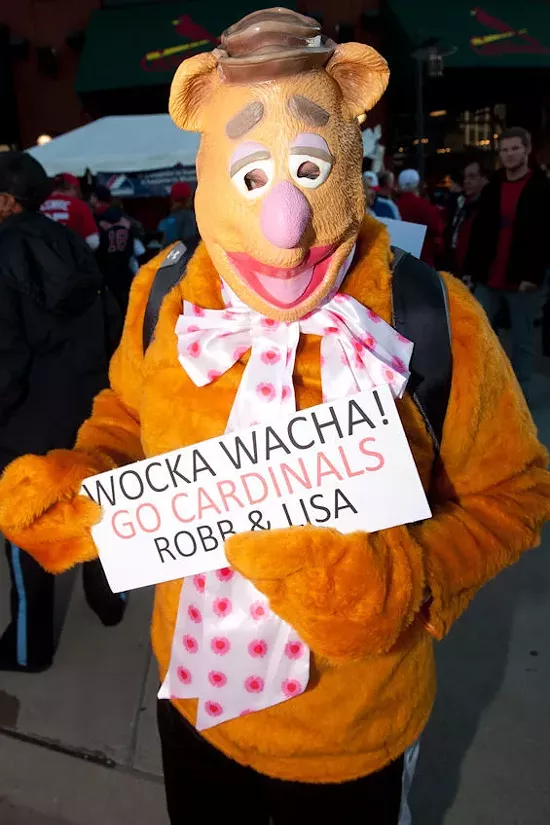 See also: The Best Dressed People of Booty Halloween 10
2. Go Cardinals Air Dancer No longer shall air-dancing inflatables only be used to promote car washes and mattress sales. Put a human inside and root for the Birds!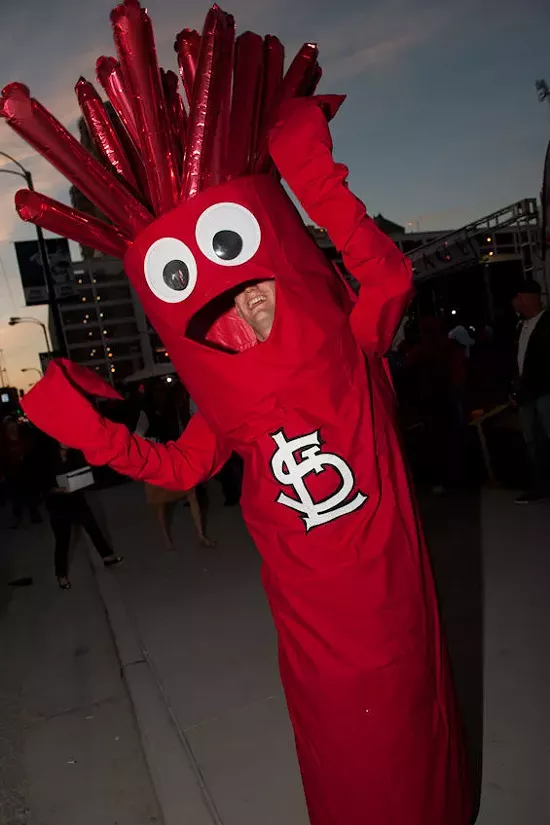 3. A Boston Red Sox Player This is more of an idea than a full costume. We want to see someone with a fake beard, Vasoline in their glove and a Red Sox costume laying on their stomach in front of trick-or-treaters. Who's on it?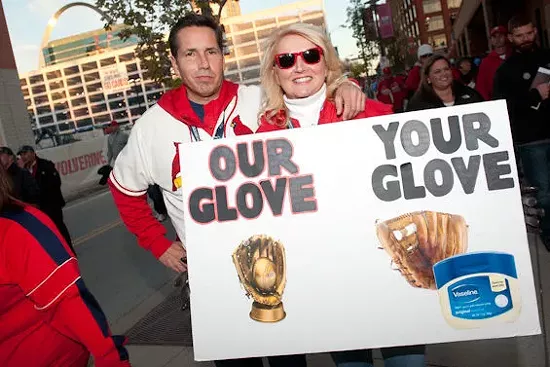 4. A Cardinals Lobster This one gets major points for creativity. We just want to pour butter all over this thing.
See also: Brace Yourselves, the Miley Cyrus Halloween Costumes are Coming
5. Team Doctor Try sneaking into the locker room in your medical gear and locker-room pass so you can see where else Yadier Molina is tattooed.
6. Fancy Lady Bird Lady Show Boston how classy Cardinal Nation can be. We love this costume because of the nest of cardinals in her hair.
Follow Lindsay Toler on Twitter at @StLouisLindsay. E-mail the author at Lindsay.Toler@RiverfrontTimes.com.