Joe Simon
The Sanders family with Phineas in a photo said to have been taken recently.
Phineas, the dog who was accused of biting a seven-year-old girl, put on doggy death row, and then stolen from the shelter where he was imprisoned, has been found alive and well.
Joe Simon, the attorney and advocate who has been handling the family's effort to save their beloved pet, wrote on his Facebook page that Phineas was dropped off at a "safe house," but revealed few details.
Simon tells Daily RFT that the safe house is in "rural Missouri," but said he couldn't give any other information because Phineas might still be in danger.
"You can tell there's still animosity towards this dog from some people involved in the situation," Simon says. "We just sort of feel for the dog's safety and now that we got him back, we're gonna make sure that, at least for the time being until things calm down, that we keep him hidden."
The return of Phineas came one day after he was exonerated by Salem judge Scott Bernstein, who wrote in a decision that the dog was not guilty of biting the seven-year-old girl and could be returned to his owners.
Phineas was clearly kidnapped by somebody who wanted to save Phineas from a possible death sentence and then return him to his family once it was safe.
See also: Phineas the Dog Still Missing, Attorneys Argue Legality of Dog's Death Sentence Anyway
So who is this benevolent dognapper?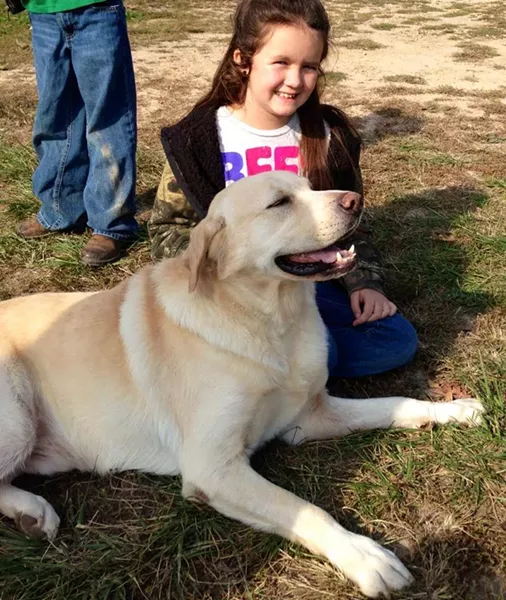 According to the New York Times, a mysterious man with a fake beard approached the Sanders family shortly after Phineas was kidnapped from the shelter he was being held at and told them their dog was OK. He even allowed them to visit Phineas after they set up the "safe house."
After Bernstein exonerated Phineas, the man let the Sanders have their dog back:
The man, wearing his fake beard, arrived at the drop point in a rural patch surrounded by dirt roads before the Sanderses arrived, and when an intermediary told him they were still on their way, he left Phineas and said, "Well, I've got to go."
See also: Phineas the Dog: Letter Suggests Phineas Rescued by Animal Rights Activists
Salem police have been "swamped" with requests for information and phony tips about Phineas' whereabouts since he was kidnapped from a shelter earlier this month, Chief Keith Steelman says. Now that Phineas has been found, that should subside.
However, police still want to know who took Phineas.
"We still have a theft of a dog. At the time the dog was stolen, it was being held by the city because of the court trial," Steelman says. "It was in possession of the vet clinic. They have decided they won't press the issue of any burglary since the dog was found. But we still have a theft of a dog."
See also: Phineas the Dog: Family's Attorney Says Dog Stolen, Probably Killed
Steelman acknowledged that it might be difficult to find who stole Phineas, but he nonetheless has a detective on the case for the time being -- apparently looking for a dog lover with a fake beard.
In the meantime, supporters of Phineas have expressed joy and amazement that the dog has been returned to his family on Facebook and Twitter. Simon's Facebook page alone has thousands of joyous comments. One supporter even wrote a poem:
Freedom Poem by Phineas - from the pen of Mary Ellen Kane

There's a change in the air, I feel it, not like I've felt before Patiently I wait for my family, to walk through that door

Instead I hear a growing noise, outside among the trees A cheer goes up, and then a chant, "Phineas, set him free!"

There are voices getting louder now, and footsteps coming fast Anticipation grows inside, and the door opens at last!

"Phineas you're free, you're going home!" What? This cannot be? My prayers and wishes are coming true! This is happening - to me!

I'll run again! I'll romp again! Outside in the sun! I'll swim in lakes and roll in mud, it will all be so much fun!

I heard all your prayers, I saved each one, and wrapped them around my heart. Because of you and your support, I've been given a brand new start.

I say goodbye to all my friends, some who I never knew But before I leave, before I go, there's something I must do...

To my hero, Joe Simon, you fought for me, morning, noon, and night My gratitude and thanks to you, for making wrong things right.

To Dr. Tune and his entire staff, my love for you has grown You gave me love and much comfort in my home away from home

And to all my fans around the world, I love you more than you know With a toy in my mouth, I head through the door It's time for me to go.....

The world loves you Phineas. We are so happy for you.
Follow Ray Downs on Twitter at @RayDowns. E-mail the author at Ray.Downs@RiverfrontTimes.com.