Welcome! We're from the Midwest, so we'll be nice to you even while we secretly hate you.
Hello, and welcome to all you bearded, bean-eating Bostonians traveling to our fair city for Games Three, Four and Five of the World Series!
St. Louis has its quirks, and our Midwestern charm-slash-Catholic guilt won't allow us to leave you in the lurch as you try to get around. Because when you fly home after losing three straight games here in St. Louis, we want you to think, "At least St. Louis was a fun town!"
Here are five things you should know to have a great time in the Lou:
1. St. Louis is not as dangerous as the Internet says it is. It seems like every few months, some Internet list names St. Louis the most dangerous city in America-slash-the-world. While St. Louis has its share of urban crime, you don't need to bring your gun. The calculations that go into crime rankings are inherently flawed and unfairly compare our city to larger metro areas. The reasons are complicated and have to do with the fact that St. Louis City is separate from St. Louis County, but we'd rather explain it to you with this rap:
2. The Arch is kind of bullshit. We're anticipating a huge amount of hate mail from St. Louisans on this one, but all we mean is that there's more to visiting Mound City than riding the Oompa Loompa cars to the top of the Arch for a panoramic view of the nothingness that is East St. Louis, Illinois. The St. Louis skyline is more beautiful when it includes America's monument to Western expansion. If it's a view you want, we recommend 360, the rooftop bar at the Hilton at the Ballpark.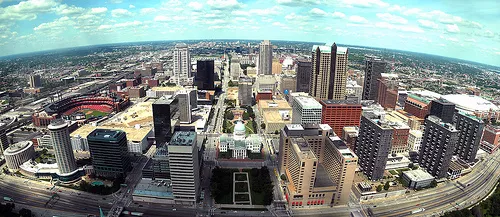 The view of St. Louis' Downtown from the top of the Arch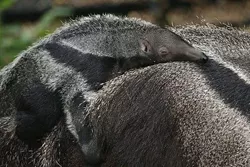 Photo by Rachael Macy/Saint Louis Zoo
Don't worry, Boston fans. Like this baby anteater, we've got your back!
3. There's lots to do for free. If you have World Series tickets and you flew here from the Northeast, then you may be on a budget. No problem: St. Louis is a great town for cheapskates. Just grab a cab or a bus to Forest Park to see the brand-new sea lion habitat at the St. Louis Zoo, the 21 galleries of largely unseen art now featured at the St. Louis Art Museum's newly opened East Wing and the exhibit on St. Louis' glory days, the 1904 World's Fair, at the Missouri History Museum -- all for free. If you're really strapped for cash, we recommend bringing a picnic to the zoo. You can buy your beer there.
4. The Loop is not Downtown. Delmar Boulevard, a.k.a the Loop, is one of America's 10 Greatest Streets, with enough shops, restaurants and buskers to keep you busy all day. But it's not our downtown. In fact, technically, it's not even in the city of St. Louis (see No. 1). It's in University City, home of Washington University, in St. Louis County. If you're spending the day here on the street of Daily RFT's headquarters, we recommend ordering the toasted ravioli, mushrooms and a spreadable cheddar burger at St. Louis (er, University City) institution Blueberry Hill.
5. The City Museum is not a "museum." Part playground, part funhouse, part surrealistic museum and part architectural marvel, the City Museum is easily St. Louis' most thrilling attraction. There's a ten-story slide, a Ferris wheel on the roof, a giant ball pit and so much more. Designed largely with found or salvaged industrial objects (including planes and a school bus), the museum is filled top to bottom with fun and adventure. We recommend wearing close-toed shoes and clothing you can move in.
There's lots more to know! St. Louisans, leave your (PG-13 rated) suggestions in the comments.
Follow Lindsay Toler on Twitter at @StLouisLindsay. E-mail the author at Lindsay.Toler@RiverfrontTimes.com.