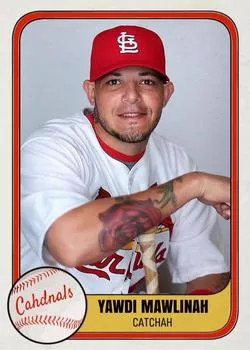 Cards Courtesy of Rookies App
Yadi Molina, translated into Boston English.
This yeeah's World Series against the Bahston Red Sawx should be wicked ahwesome. Since Game One is ova theah, St. Louis-based Rookies App is building (and tweeting) fake Cardinals baseball cards translated into Boston-ese.
Want to make your own Cardinals translations? First, here's how to speak prahpah Boston English, according to the Wicked Good Guide to Boston English: 1. Drop your Rs, especially after vowels. Ex., "Mawtha a'Gawd!" and "Reveah is wicked wee-id." 2. Turn "ah" into "aw." Ex., "Gin and tawnic." 3. Add Rs to words ending in "uh" Ex., "I have no idear whea you ah."
Rookies App, founded by St. Louis Twitter provocateur Matt Sebek, allows users to create digital baseball cards just like the ones below using a mobile device. Users can then order their cards, which are printed on recycled cardstock and wrapped in wax packaging.
Here are five more of your favorite Cardinals players Bostonized:
Also acceptable: Cahlos Mahtinez
French, Western, Boston: Jon's name his hilarious in any accent.
His full name is Petah Causma.
See Matt Holiday and Matt Carpenter after the jump!
Follow Lindsay Toler on Twitter at @StLouisLindsay. E-mail the author at Lindsay.Toler@RiverfrontTimes.com.