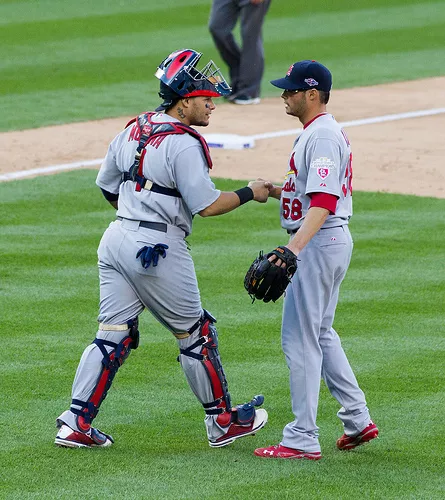 Keith Allison on Flickr
Yadi says: If you make a bet, you have to shake on it.
It's Game Day, Birds! The Commissioner's Trophy and a year's worth of bragging rights are at stake for the St. Louis Cardinals, and fans are finding ways to make the Fall Classic even more interesting.
We found politicians, radio stations and even churches who are wagering on the series. Here are six St. Louis v. Boston World Series bets:
1. The Governors - Missouri Gov. Jay Nixon and Massachusetts Gov. Deval Patrick win the award for tastiest bet, though the loser still may not be able to stomach it. Nixon's ante? A four-pack of Cardinal Cream Soda from Fitz's Bottling company, a box of Bissinger's Chocolates and Italian pastries from Missouri Baking Company on the Hill. Patrick is wagering seltzers from Polar Beverages, the country's largest independent soft-drink bottler; New England clam chowder from Legal Sea Foods; and baked goods from Dancing Deer Baking Co.
See also: Report: AB-InBev Outraged Over World Series Bet Excluding Budweiser
2.
The Mayors
- Actually, St. Louis Mayor Francis Slay decided
not
to make bets with Cardinals opponents this year, saying it's just not fair to the other cities. "You know, the Cardinals spoil us with near-ubiquitous trips to the post-season, and frankly, I think the mayor just started to feel bad about always collecting the winnings," says Maggie Crane, Slay's communications director. "Yeah, I know, Boston proved different last time. But it's a new year and a different team." That's probably for the best as Boston's mayor Tom Menino seems unimpressed with St. Louis' ultimate culinary creation: toasted ravioli. 3.
The Radio Stations
- St. Louis Public Radio (90.7 FM) wins WBUR-Boston's (90.9 FM) coveted beard if the Birds emerge victorious (which feels more like a punishment than a prize, if you ask us.) The stations are also wagering a sampler of beer: Schlafly from St. Louis, Harpoon Brewery from Boston. If the Birds win, 90.7 KWMU staffers will also earn a bottle of Red Sox Cabernet and a tweet from WBUR's account with someone wearing a Cardinals ball cap.
4. The Cathedrals - If all this sports smack-talk is wearing on your soul, join the Strike Out Trafficking World Series Challenge between St. Louis' Christ Church Cathedral and Boston's Cathedral Church of St. Paul. The churches are taking donations on Facebook, and the city with the winning team gets to choose which nonprofit gets the money. St. Louis chose Magdalene St. Louis, which provides housing and resources for women who are survivors of abuse, prostitution, trafficking, addiction and homelessness. The churches have already raised $4,200, and you can donate until first pitch tonight.
5. The Orchestras - So this isn't a bet, exactly. More of a West Side Story-style musical smackdown, complete with zippy one-liners and faux-threatening snapping. The St. Louis Symphony Orchestra "brassed off" against the Boston Symphony Orchestra, playing "Anything You Can Do" and "Take Me Out to the Ballgame."
6. You! - We asked Daily RFT readers about their bets on the Riverfront Times' Facebook page. Click the status below to read all the bets, but here are some of our favorites: Pappy's Smoke House BBQ v. New England lobster, Schlafly beer v. Sam Adams beer, a gooey butter cake v. a Boston creme pie.
Follow Lindsay Toler on Twitter at @StLouisLindsay. E-mail the author at Lindsay.Toler@RiverfrontTimes.com.