Lindsay Toler
Robert Stief stands in front of what he calls a "concrete tomb" where he was trapped earlier this month. His friend behind him, Brett Dagoberg, searched for him for hours.
"I was buried alive yesterday."
That's how Robert Stief, 32, remembers it. On October 13, he was sitting by the train tracks in south St. Louis waiting for friends to wander back from the corner store with a typical breakfast: Vess sodas and a Payday.
Suddenly, he woke up "in a concrete coffin," stuck at the center of an immovable Rubik's cube of giant industrial blocks -- his phone, wallet and day's worth of medicines gone. A metal plate topped with wet gravel encased him in this barren storage site for three hours. He could hear trucks rumbling through the industrial neighborhood at Michigan Avenue and Tesson Street, so he shouted until his voice was hoarse.
No one could hear him. Or, at least, no one came to help.
If you think his story sounds unbelievable, you're not alone. St. Louis Metropolitan Police never filed a report, and with half a mind to sue them for not pursuing his case, Stief keeps calling and getting hung up on by lawyers.
"Everyone thinks I'm a wacko," Stief told Daily RFT. "They all act like I'm crazy. If I [hadn't] made it out, I'd be dead right now, and no one would know where I was."
Lindsay Toler
Robert Stief has no idea how he got into what he calls a "concrete coffin."
See Also: Photos: Missouri Golfer Swallowed By Illinois Sinkhole, Says "I Was Falling for a Long Time"
Stief says he escaped by ramming his shoulder against the plate above him, dislocating his shoulder. It's hardly his only injury: Stief uses a cane to walk with his broken ankle, he takes methadone for pain in his spine, and he's medicated for anxiety, seizures and agoraphobia.
"After this I'm sure I'm going to have a big problem with claustrophobia," he said.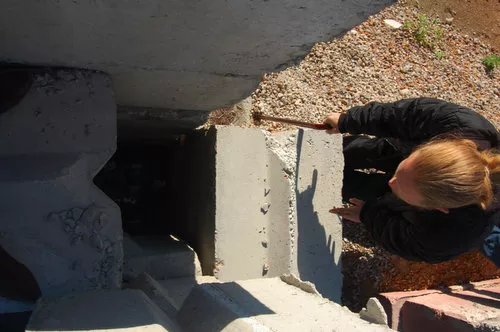 Lindsay Toler
Robert Stief peers into the crawl space where he says he was buried alive for three hours.
Read after the jump to find out whether drugs played a role in Stief's story. Stief insists he was not high on illegal drugs when he lost consciousness, though that's what police seem to suspect.
"[Police] said I was acting like I was on drugs. I might have been a little wobbly, but I was in a hot hole for three hours. I was in shock," Stief says.
Rather, Stief says he believes he was drugged by his attackers and had his best friend and neighbor, Brett Dagoberg, 31, scan his neck for puncture wounds.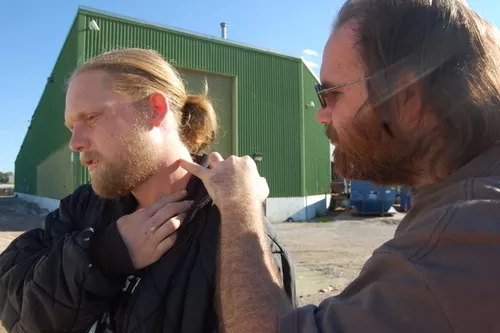 Lindsay Toler
Brett Dagoberg checks his friend's neck for puncture wounds.
"Everyone assumes he was just high," Dagoberg says. "No he wasn't. Not that day." Dagoberg seems to believe his friend unequivocally, saying Steif just isn't the type to make this up. They both resent the skepticism they face when they tell their story.
"I know it's fucked up, but this is south city," Dagoberg says. "Crazy shit happens down here."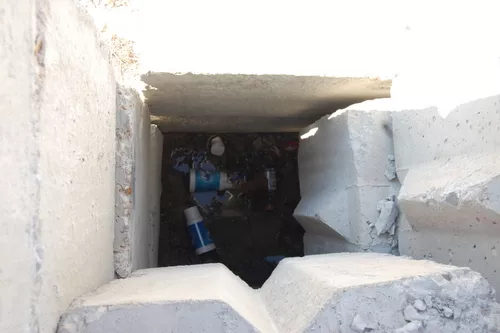 Lindsay Toler
The hole where Robert Stief says he was trapped for hours.