See update below: Calm down Anonymous, Daisy Coleman may get her chance to testify in court after all. After three days of public outcry and intense media coverage, Nodaway County Prosecuting Attorney Robert Rice announced Wednesday that the Maryville rape case will be re-investigated by a court-selected special prosecutor.
A seven-month-long investigation by the Kansas City Star has raised questions about the dismissal of charges against three Maryville High School athletes who allegedly raped fourteen-year-old Daisy Coleman and her thirteen-year-old friend while at a party in January 2012. Rice said the article "called into question the integrity of the criminal-justice process in this case."
"The public trust in our criminal justice system must be upheld at all times," Rice continued. "Therefore, based on the willingness of the witnesses to testify in court and to uphold the public trust in our criminal justice process, I've asked the court to appoint a special prosecuting attorney to conduct an independent review of the facts to determine whether to refile charges."
See also: Daisy Coleman: Anonymous Demands Justice For Maryville Rape Victim
Rice wrapped up his prepared statement in under two minutes, but he only needed a few sentences to blame the case's failure on the lack of cooperation from the victims and their families. In Rice's own words:
On Tuesday October 15, 2013, I watched a program on CNN, and on that program the host interviewed four state witnesses that were part of a sexual assault case in Nodaway Country in 2012. [In] part of that interview the witnesses declared their willingness to cooperate and testify in court on that case. Until that time, the witnesses never told me that they were willing to cooperate and testify after they invoked their Fifth Amendment right in a deposition under oath.
Indeed, Melinda Coleman and her daughter Daisy, now sixteen, appeared on CNN this week, along with the previously unidentified victim, Paige Parkhurst, now fifteen, and her mother, Robin Bourland.
Here's one of the CNN spots Rice was talking about.
If you watch the video or have been following the story up until now, you know that Rice's version of events blatantly clash with the victims' version: From the Star story onward, the victims and their families have maintained that they were eager to cooperate before they were railroaded by aggressive prosecutors into pleading the Fifth. Most importantly, the victims say, they only stopped cooperating after Rice dropped the felony charges without explanation.
Rice has his own set of facts, but he repeatedly declined to reveal specifics (or, in legalalese, "evidence") since the case file is closed. He cited a Missouri statute that says if charges have been dropped and a case has been dismissed, those records are sealed, and nobody, not even Rice, can unseal them.
Without those records, though, all that's left is Rice's word against the victims'.
Daisy Coleman and her mother during a CNN interview on Tuesday.
The issue isn't whether or not the victims stopped cooperating -- it's when they stopped cooperating.
Rice said their resistance started from the beginning, and he emphasized to the press that he recorded the final deposition of the case; that recording, he said, represents hard evidence that the victims and their families knew full well that pleading the Fifth would shatter the case, and they did it anyway.
But where is this hard evidence now? When was the deposition? Where is the tangible proof that the victims stopped cooperating with the prosecution?
After five or six variations of "I can't answer that," an exasperated Rice insisted that he would gladly release the records but, alas, his hands are tied by the law.
"Trust me on this, I am standing in front of you today honestly wishing I could hand each and every one of you the documents I've just discussed, because then and there it would shut this line of questioning. You would know what I'm talking about. I can't do that. I'm prohibited form doing that. There is a boxer mentality in me makes me want to do it, but I just can't."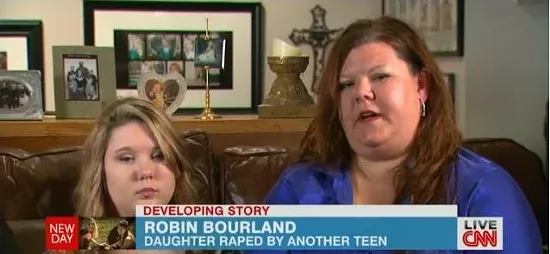 Paige Parkhurst and her mother Robin Bourland.
You can probably empathize with the press for being a little frustrated at this point. One reporter asked Rice about the connection between a prominent Missouri political family and Matt Barnett, the seventeen-year-old high-school senior who confessed to having sex with Daisy Coleman. (He claims the sex was consensual.) Barnett had been charged with one felony count of sexual assault and one misdemeanor count for endangering the welfare of a minor. (That is, until those charges were dropped.)
"It's absolute crap," Rice answered. "I'm just going to be honest with you. My name was dragged through the mug in that article and I don't appreciate it...One person can throw out a couple of baseless rumors that makes everybody think that I'm a crook. And I'll tell you what, it makes me mad. It's not true, it never was true."
Update 10:45 a.m.: Attorney General Chris Koster released a statement on the proceedings in Maryville:
The Attorney General's Office stands ready to assist Nodaway County in the prosecutorial review of this matter. The judge will select the new prosecutor, and we trust he will make the decision in the best interests of the families.
Continue for full video of Rice's press conference
Here's a video of Rice's full press conference. Skip to 3:14 for his opening statement.
And here's another portion of CNN's interview with Daisy Coleman and her mother.
Follow Daniel Wicentowski on Twitter at @D_Towski. E-mail the author at Danny.Wicentowski@RiverfrontTimes.com.