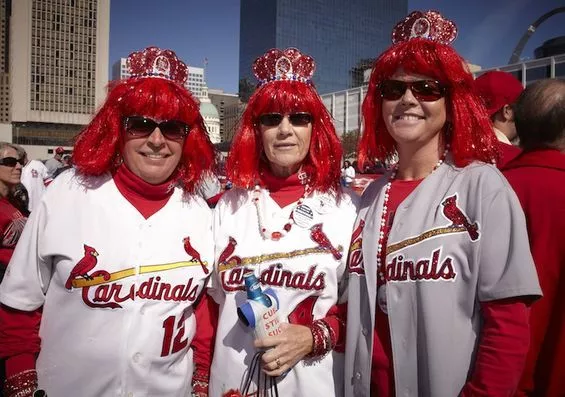 A few members of Cardinal Nation.
You guys, what a weekend we had. Up two games to nil on the Dodgers? St. Louis fans have a lot to be happy about this Monday morning (not to mention the success of the Rams, Blues and Mizzou to boot). The weekend's wins have almost washed away the ugliness we saw last week, an ire that seemed to hit its apex after the Cardinals beat the Pirates in the Division Championship Series. To put it plainly, we're of course talking about how everyone hates the Cardinals.
There are all sorts of stereotypes floating in the garbage water that is the Internet about the St. Louis Cardinals. Nay, about their fans. And most of them are pretty funny and accurate, but -- like insults hurled at your little brother from the back of the bus -- only we can say them. All this outside attention on our team isn't surprising, but most of it is annoying.
The "Best Fans in Baseball," our self-anointed term, is a high-calorie humblebrag that Midwesterners have been personifying for years with the ease and grace of Juan Encarnación lazily jogging down a fly ball in the outfield: It's hated by onlookers, yet like Juan, we're unwilling to change our behavior. Like A Prairie Home Companion, the BFIB ("BEE-fib") moniker is an itchy reminder to the rest of the country that the Midwest exists.
Any potshots from former STL residents just seem like trolling; we know they don't mean much.
When it comes to baseball, we have the best bahll cluwb as TLR used to say. So we're a bit defensive about people accusing us of not being classy. Some call it "grand-standing."
There's always been BFIBs, but the Cardinals' success over the last fifteen years, combined with the de-regionalization of everything (thanks, Twitter, Facebook, MLB Network, Deadspin, cable TV and the Internet as a whole), the politeness of Cardinals fans you might only encounter when actually at Busch Stadium has mutated into today's mythology, and once your infant niece is spotted on Facebook wearing a Cardinals onesie, she too is in the clan.
Yep, BFIBs have been around forever: Fans who listened to games on KMOX (1120 AM) in their cars because it had the strongest signal; sat in the cheap seats with afghans over their knees during cold April night games, listening to Jack Buck on their headphones. Of course the BFIBs of old clapped for the other team's player for beating an out at first by hustling down the line. St. Louis has been home to Rex Hudler, Bo Hart, David Eckstein, Skip Schumaker, Brendan Ryan and countless other scrappy lil' whites whose hustle made their grounding out to first in a clutch situation a little easier to stomach.
We appreciate that sort of hustle, but so do fans of other teams in other cities. Literally everybody appreciates somebody who hustles. So what makes St. Louis different? We just humblebragged about it all over town, that is, on national television and the Internet, and now it's time to be publicly shamed. And shame us they will.
Nobody wants to see us win because when we do, we act like Ned Flanders. In the NLDS, Pittsburgh fans with their cool-looking Jolly Roger flags, were the exact opposite of all those grandmas in Cardinals sweaters they showed on TBS -- and yet the Pirates were shut down on two occasions by St. Adam Wainwright, a gentle Clydesdale of a man who openly wept after signing his $97.5 million contract. He's a player made for BFIBs, not a bristly character like the Pujols or Carpenter or the toughest Cardinal of them all, Bob Gibson. Not Waino. He's one of us.
Prepare your gag reflexes: We're apparently just friendly farm folk who love our baseball team with a purity that's impossible to achieve other places (especially on the coasts), except maybe for Kansas City, but that's a football town anyway.
Here are the Ten Ways to Act Like a BFIB:
Here are the Ten Ways to Act Like a BFIB:
10. Clap for the other team.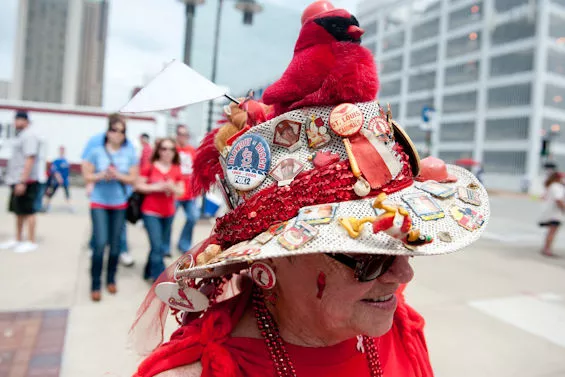 Here's a hat with a bird on it. We assume she'd clap for the other team if they made a good play and looked like an honest, hard-working team player.
9. Have a crush (or man-crush) on at least one current player.
8. Wear your World Series ring at least once a year.
7. Be unafraid to say player's names in sexy ways ("Hollidaaay! Ow! Ow!") in crowded bars while everyone else is being relatively quiet.
6. Own a red sports blazer.
5. Congratulate the losing team. You can tell yourself you're not being condescending, but you are and you secretly enjoy it. Only after that highest of triumphs, winning the World Series, are you allowed to really peacock around, puffed up with a sign you didn't spell-check.
4. Wonder aloud why players today have so many tattoos, but don't mention any player by name.
3. Order a Bud at the ball game "to support the local brewery in town" and then wink repeatedly at your friends until they sigh in agreement.
2. This one is a little controversial: You never, under any circumstances, do the wave. This is for amateurs who forget there is a baseball game being played.
1. Righteously chastise anybody who violates rules Nos. 2 through 10.
And one bonus: Even though it's officially sanctioned language by the St. Louis Cardinals Baseball Club LLC, please stop saying "Cardinal Nation" to people. It's just awful.
---
Follow @nicklucchesi on Twitter for tweets from a self-loathing Cardinals fan.