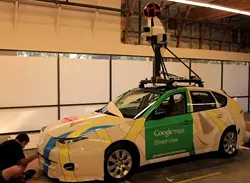 In May Daily RFT told you about a motorist in Belleville, Illinois, whom police had handcuffed on the curb when the Google Maps car just happened to drive by. We heard about the incident from former Riverfront Times contributor Robin Wheeler, who was sitting on her front porch at the time and chronicled the entire episode on Facebook: "Two cop cars on my side street. Cops in my yard. Perp lying in the grass, being arrested for I don't know what. I'm on the porch in my pajamas. And who should drive by at this exact moment? The Google Street View!"
See also: Top 10 Google Street View Photobombs
Now, some four months later, Google has updated its Street View map of Belleville and guess what? This: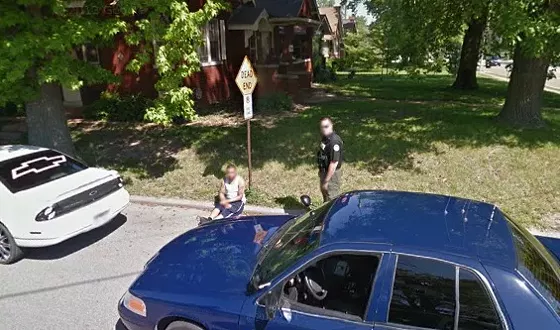 The image can be found when viewing Google Street View at the corner of West Main and 87th Street in Belleville.
Here's a closeup: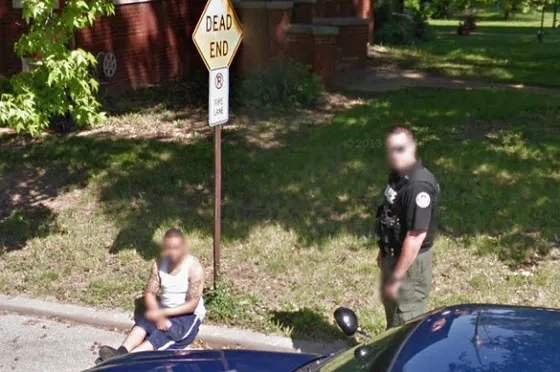 See also: Google Street View St. Louis for Slackers
Reached for comment yesterday, Wheeler says she now has mixed feelings about what happened on her front lawn the morning of May 14. Police eventually let the driver go without charging him for a crime.
"It was funny then. At the same time, if that had happened to me, I'd be pissed," says Wheeler. "It's all kind of absurd. These days anything you do -- or even things you didn't do -- can be immortalized without your say."
Wheeler adds that her favorite memory of that day is when the "slack-jawed" police officer approached her after the suspect was released. "Did you see that?" the cop asked. "We're going to be on the Internet!"