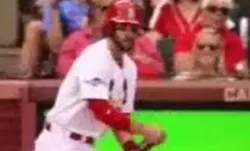 Carpenter: A wood worker par excellence.
It's been a lackluster National League Division Series for Cardinals' second-baseman Matt Carpenter. The All-Star infielder who had the sixth-best batting average (.318) in the National League this season, is batting just .067 against the Pittsburgh Pirates through four games of the NLDS.
So, what's gone wrong in the playoffs?
Perhaps it's the incredibly suggestive focused batting prep he brings to the plate, as demonstrated below during Game 1 of the NLDS.
OK, cheap shot. But here's hoping Carpenter can, ahem, polish his stats in Game 5 the way he polishes his lumber. Go Cards! See also: [VIDEO] Classy Cubs Fan Mimics a Double-Barrel Blowjob on TV, Gets Ejected
Bonus: To continue this downward spiral, we present what remains the best faux-masturbation video ever to emerge from the world of sports. You're welcome.