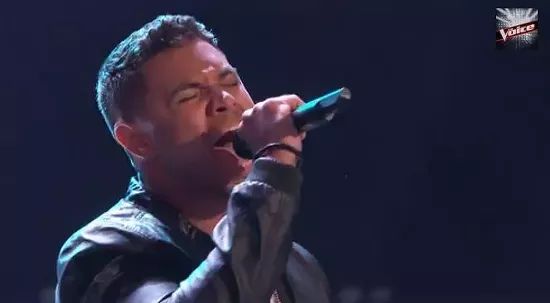 The Voice, via YouTube
St. Louisian James Irwin knocked down REM's "Losing My Religion" on last night's The Voice
Those who caught last night's episode of The Voice got to see a heartwarming victory for St. Louisan James Irwin, who returned to the show one season after failing to impress even one of the judges.
This time, he wowed all four with REM's "Losing My Religion." No contestant has ever gone from zero-to-four chairs in just one season.
Irwin melted hearts in season 4 when audiences learned he and his wife had lost their twin daughters shortly after they were born. But the judges weren't swayed by his performance.
Things were much different time around, as Christina Augulara turned her chair after just a few seconds, followed by Cee Lo Green, Adam Levine and Blake Shelton. All this while Irwin's wife and ludicrously adorable son watched and cheered.
See also: RFT Music Writer Auditions for The Voice, Still Hates Adam Levine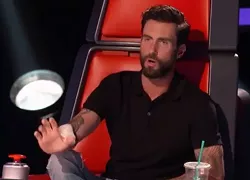 The Voice, via YouTube
Adam Levine, James Irwin's new singing sensei
After finishing his performance Irwin dropped to his knees and basked in the well-earned applause of the crowd, including a standing ovation from judge Christina Aguilera. However, Irwin chose to join Adam Levine's squad.
It's an interesting is choice considering Levine was the only one to offer Irwin real criticism for the performance, saying that his he missed some of the song's emotional oomph down the stretch.
Irwin responded to Levine that "There was this moment when all four chairs turned around, I kind of got distracted from the song."
Oh James Irwin. You've snarked and sung your way into our hearts.
Check out the video below of Irwin's show-stopping rendition of "Losing My Religion."
Follow Daniel Wicentowski on Twitter at @D_Towski. E-mail the author at Danny.Wicentowski@RiverfrontTimes.com.